We're always partying in Cuba, but this one in particular is a special one. We will have to travel to the western part of the Island, but it will worth it, for sure. This is how the week begins: Fiesta de la Cubanía. We continue with Music and recommend the first presentation of Yeny Valdés in Miami, the ex Van Van band singer now in solitary. Read below so you find out about that and a lot more.
Regarding Visual Arts, there will be photographs at the opening of the new space Tatagua. You can't miss it! Also, in Dance, Lizt Alfonso will be celebrating her 26 years on stage so the company will perform "Fuerza y Compás" for the first time in years. In Theater, Ludi Teatro will present the play "Incendios" while the International Havana Theater Festival is about to start. In FAC, continues the SueciakonstCuba Cultural Days 2017; and in Cinema, we'll have the 7th Dutch Film Week.
As you can see, there's a lot to do. Take a look at everything, choose and go. See you around!
Party for Cuban traditions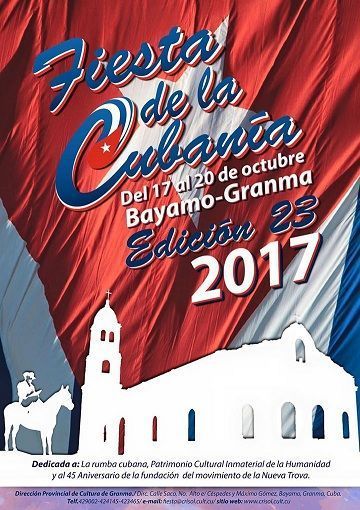 Concerts, dance shows for everyone in the XXIII Fiesta de la Cubanía, starting next Octber 17th in Bayamo. The opening will be with Raul Paz, and later will get there the show "A ton of Salsa" with performances of Isaac Delgado, La Original de Manzanillo and Cándido Fabré. You will find also the space Son con tres, with group presentations like Septeto Santiaguero, Arturo Jorge y Tradición, and the quintets Son de Cuba and Virama. This Party will also have fashion shows and solo singers like Leo Vera and Mayda Castañeda. Of course there will be theoretic events, exhibitions, handcraft fairs, theater, cinema, dance and traditional cooking samples.

Exclusive with Yeny Valdés!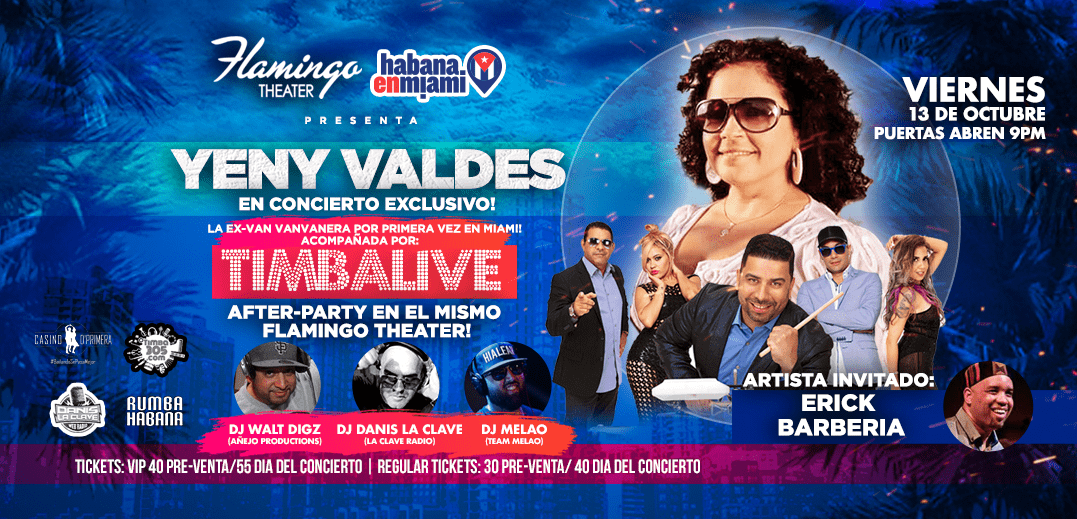 Yeny Valdés will be in an Exclusive Concert! The ex Van Van singer will perform in Miami for the first time alone. It will happen today, in Flamingo Theater, and she'll be with Miami's own TIMBALIVE and Erick Barbería as a guest. The After-Party will be there too, with DJ Walt Digz (Añejo Productions), DJ Danis La Clave (La Clave Radio), and DJ Melao (Team Melao).
Two in One
Yusa today, in Ocho Live Miami, at 9 p.m. On Saturday, Vanito Brown. Tickets in www.eventbrite.com
Coralina in concert
Tomorrow, in Cobarrubias Hall of Cuban National Theater, at 8:30 p.m., 3rd concert of Schola Cantorum Coralina as a tribute for the 85 anniversary of Canadian musician Glenn Gould's birth, the 150 years of Canada foundation and the 72 of the Cuba-Canada relations. For this occasion, Alina Orraca will lead the coral aggrupation and Ivars Taurins will be the guest.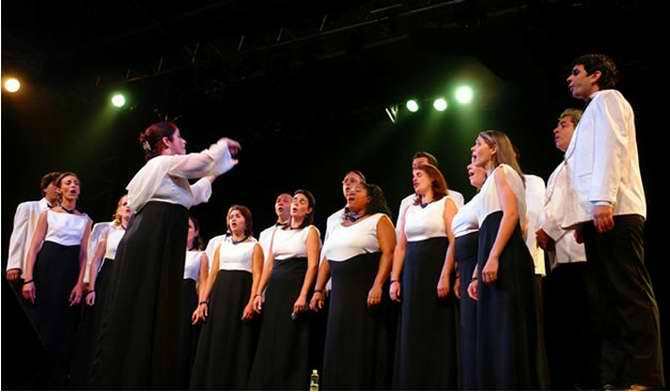 The show will begin with a photograph shown, images Glenn Gould's concerts and presentations, and a documentary about his life. Later on, the concert will start and some Cuban musicians are invited: Estela Alfonso (piano) and Karen Hernández (organ). They will interpret also themes by John Blow, Healey Willian and Murray Schafer.

With Torrens rhythm
Super-concert with David Torrens in Bar Restaurant Pazillo. This Saturday at 9 p.m.
A little bit of everything
Proyecto Resistencia in Bar Tales (5ta Ave. and 84 St., Playa), tomorrow at 9:30 p.m. According with its creators, Resistencia is a space for the free art. Don't miss it.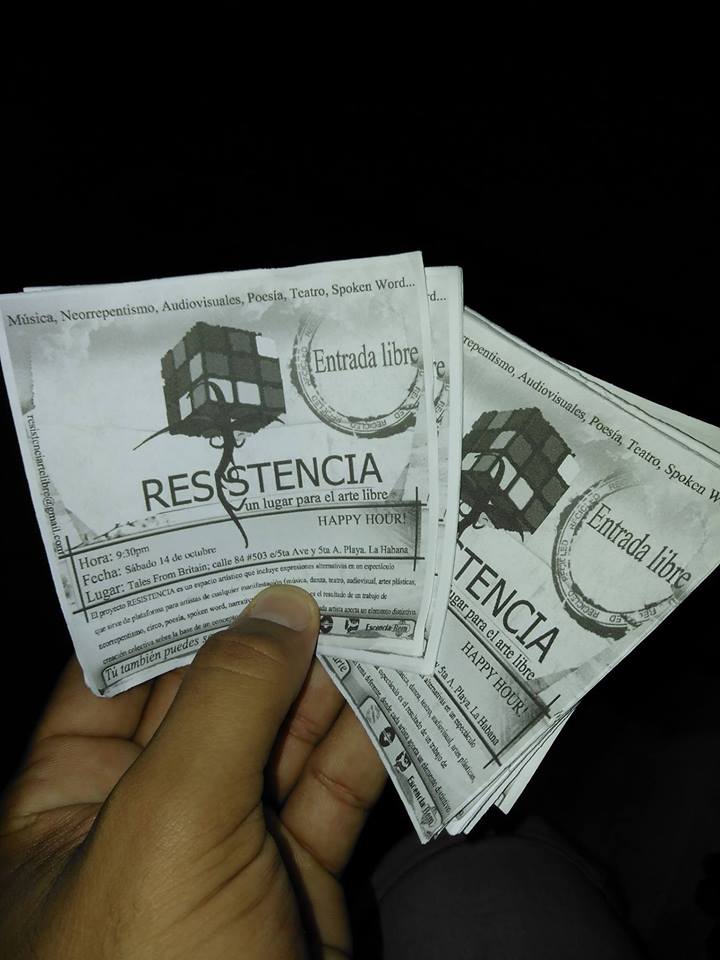 Luis Franco in concert
This singer-songwriter will perform today at 6 p.m., in Pabellón Cuba.
No stress
Concert in Brecht
Sweet Lizzy Project invites tomorrow at 11 p.m. to their concert in Bertolt Brecht Cultural Center.
Expo Mutaciones
This is a project by Estudio Figueroa-Vives in Havana, together with the Norway Embassy in Cuba, Michel Perez (Pollo)'s Workshop, Studio 8 and El Apartamento. The shown will be inaugurated today at 7 p.m. and these are the artists: Juan Carlos Alom, Reinaldo Cid, Rigoberto Oquendo, Felko,Ossain Raggi, Luis Casas, Yojany Pérez, Irolan Maroselli, Elizabeth Rodríguez/ Alejandro Campins (in collaboration with José A. Figueroa, Ignacio Barrios) Fernando Rodríguez Falcón, Javier Castro Rivera, Ignacio Barrios Martinez, Michel Perez, and Alejandro González.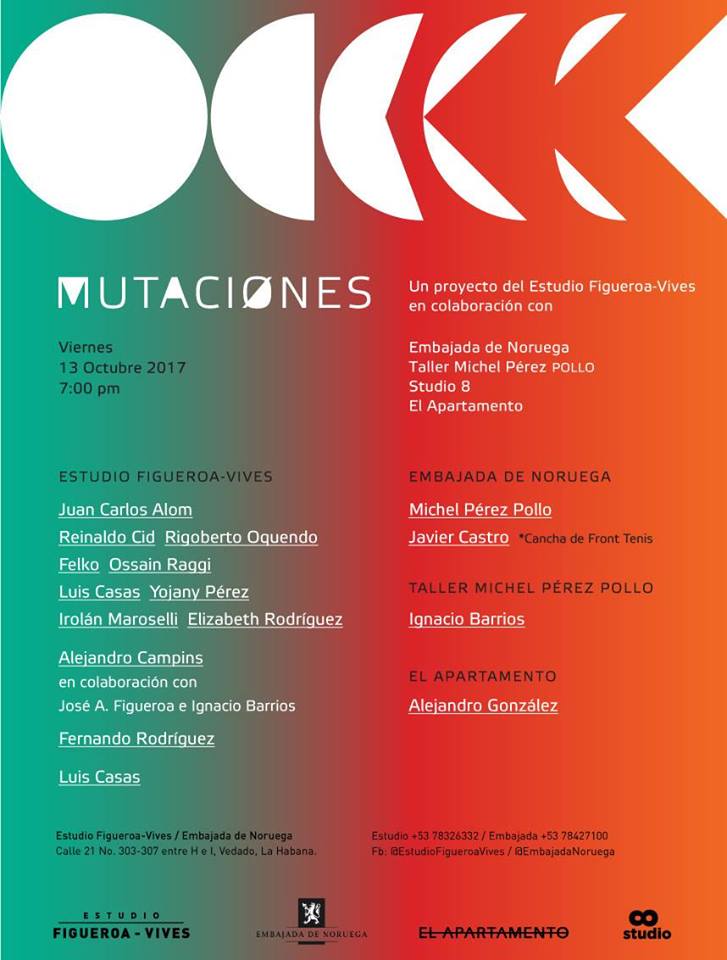 Photographs in Tatagua
Photograph agency MAKRO will be also at Tatagua's opening day with the collective expo Soirée en el Prado, today at 7 p.m. Don't miss it!
Fuerza y Compás

To celebrate the 26 years of Lizt Alfonso on stage, her dance company will perform Fuerza y Compás. It will take place in Avellaneda Hall of National Theater, this weekend at usual hours. This show has been presented all over the world in important theaters like: Auditorium Theatre, Chicago; City Center and New Victory Theatre, New York; Place des Arts, Montreal, National Arts Centre, Ottawa; Deutschen Schauspielhaus, Hamburgo; Cairo Opera House, and Shanghai Oriental Art Center.

Incendios in Ludi Teatro
The play "Incendio" by Ludi Teatro will be on stage during the weekend at usual hours. Artistic direction by Miguel Abreu. Address: I St. between 9th and 11th, Vedado.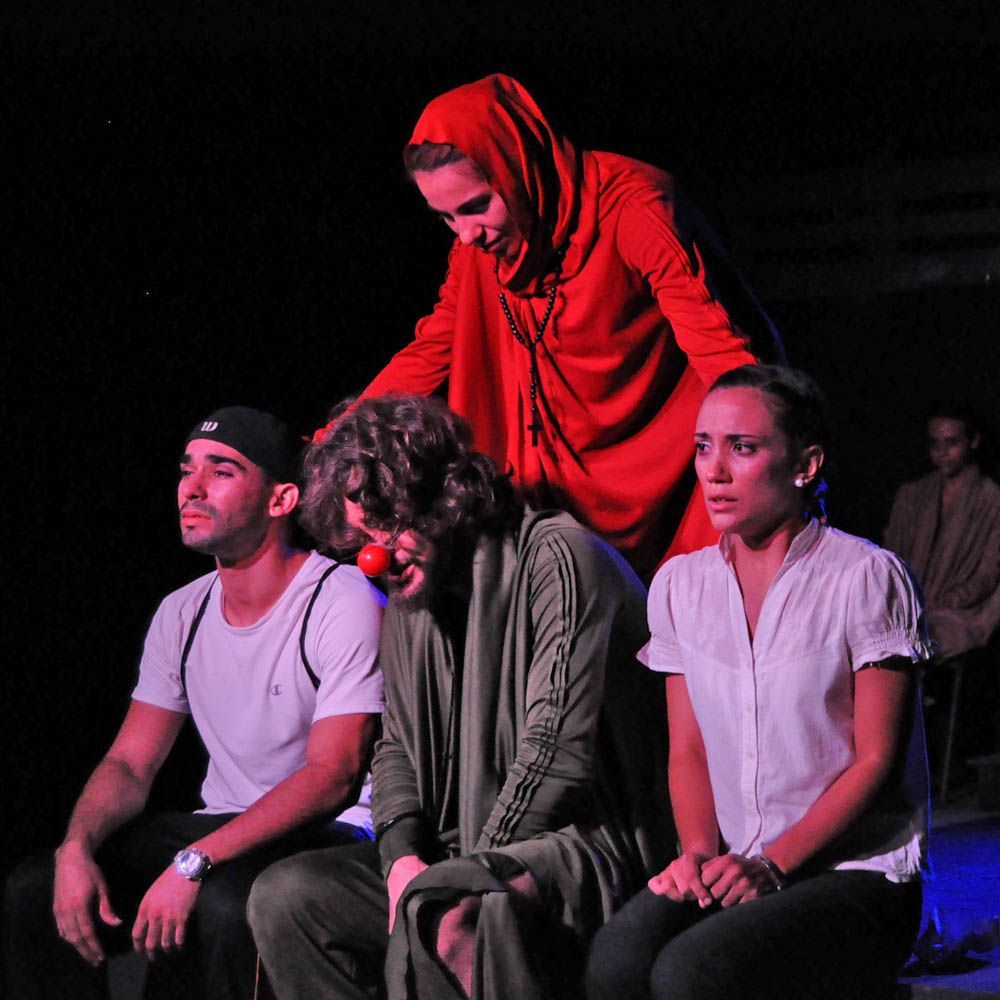 Teatro D'Dos comes back
Teatro D'Dos presents this weekend the play "La pasión del King Lear" by Yerandy Fleites, with artistic direction by Julio César Ramírez. Cyltural Center Raquel Revuelta hosts this play in usual hours. Omar Valiño commented in the play program:
"With the strength of the waves in the middle of the storm, "La pasión del King Lear" rehearses a country with a nature card among us. And it warns us, in a symbolic way, that we are within the blue sea of stalls."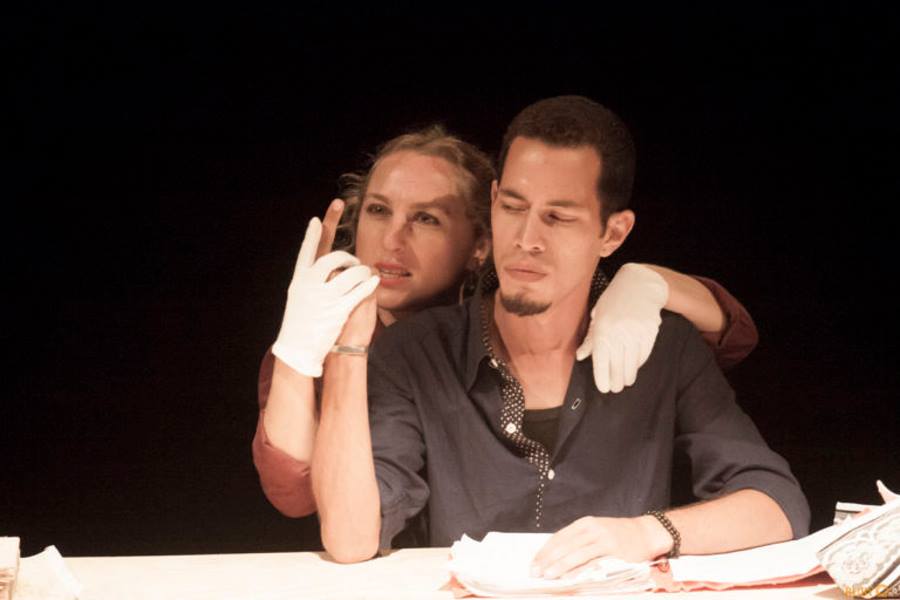 Musical in Hubert de Blanck
Today, at 6 p.m., theater company Hubert de Blanck goes to the stage with the play "El gallo electronico" by Yerandy Fleites and artistic direction by Fabricio Hernández.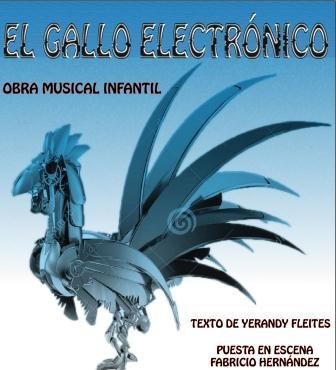 Cuba and Sweden in FAC
The Cuban Art Factory continues this weekend with the SueciakonstCuba Cultural Daysa 2017. These are the things you can find if you decide to stop by 26 ST. and 11 St., Vedado.
FRIDAY, OCTOBER 13
8:30 p.m.: Open master class in Nave 3 by Isabel Bustos, awarded with the Dance National Prize and Director of Danza Teatro Retazos company.
9:00 p.m.: Companies Danza Teatro Retazos (Cuba) and Memory Wax (Sweden) will present the play "Crisálida", in Nave 3. The play explores the belonging need in juxtaposition to the freedom desire. With contemporary dance as main expression, the play combines elements from mimics, hip-hop and folklore to create a language of contrasts.
11:00 p.m.: Kono y los chicos de Cuba's concert. Nave 4.
12:00 a.m.: Open Jam (Jazz) Lus de Habana. Nave 1.
SATURDAY, OCTOBER 14
9:00 p.m.: Swedish fashion show with: Playful minimalism, in Nave 3. The show will be presented by the Tillskararakademin Academy.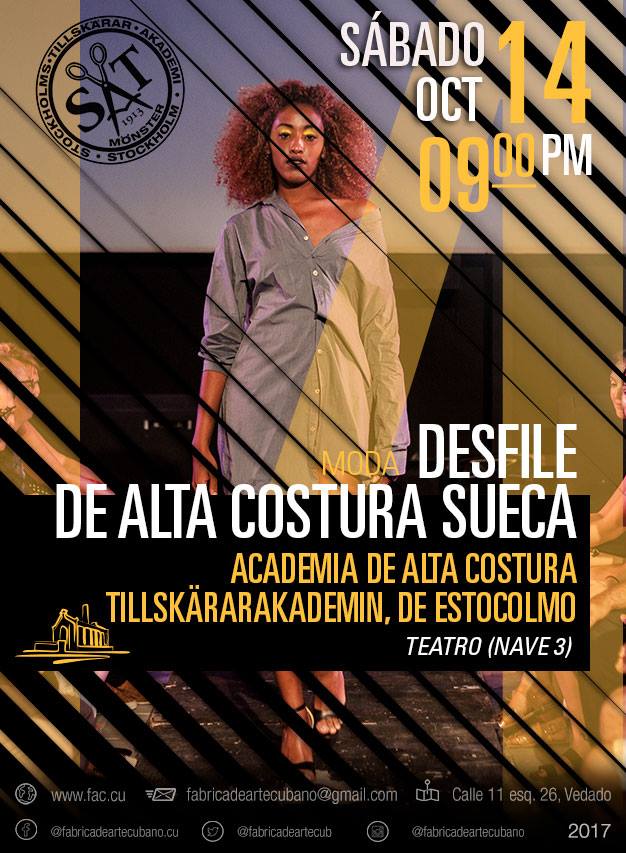 9:30 p.m.: Session Dj Producers: Iván Lejardi in Nave 1.
11:00 p.m.: Nube Roja's concert. Nave 4.
12:00 a.m: Rock and Roll in FAC with Habalama group. Nave 1.
SUNDAY, OCTOBER 15
9:00 p.m.: The play "Contraculta", interpreted by Hilde Gorpe in Nave 3. This play is a characterization of Swedish culture, Swedish themselves and their differences with Cuban through concepts like time, space, energy and interaction.
9:30 p.m.: Lien and Rey's concert. Nave 1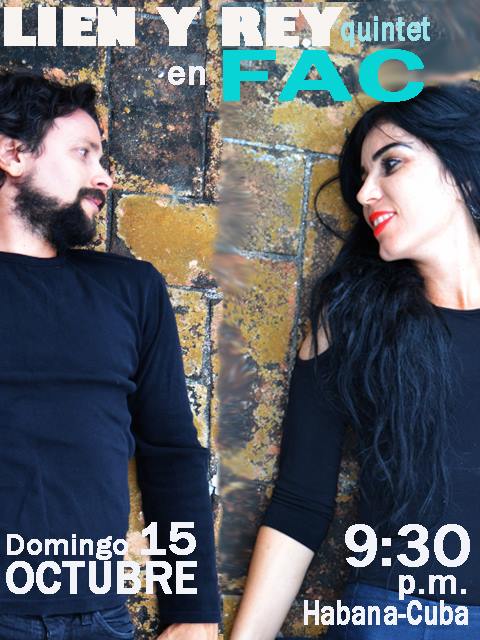 11:00 p.m.: Martini and Natural Trio's concert. Nave 4.
11:30 p.m.: Session Dj Producers: Iván Lejardi in Nave 1.

Dutch cinema in Havana
Friday 13: 8 p.m.: Strike a Pose.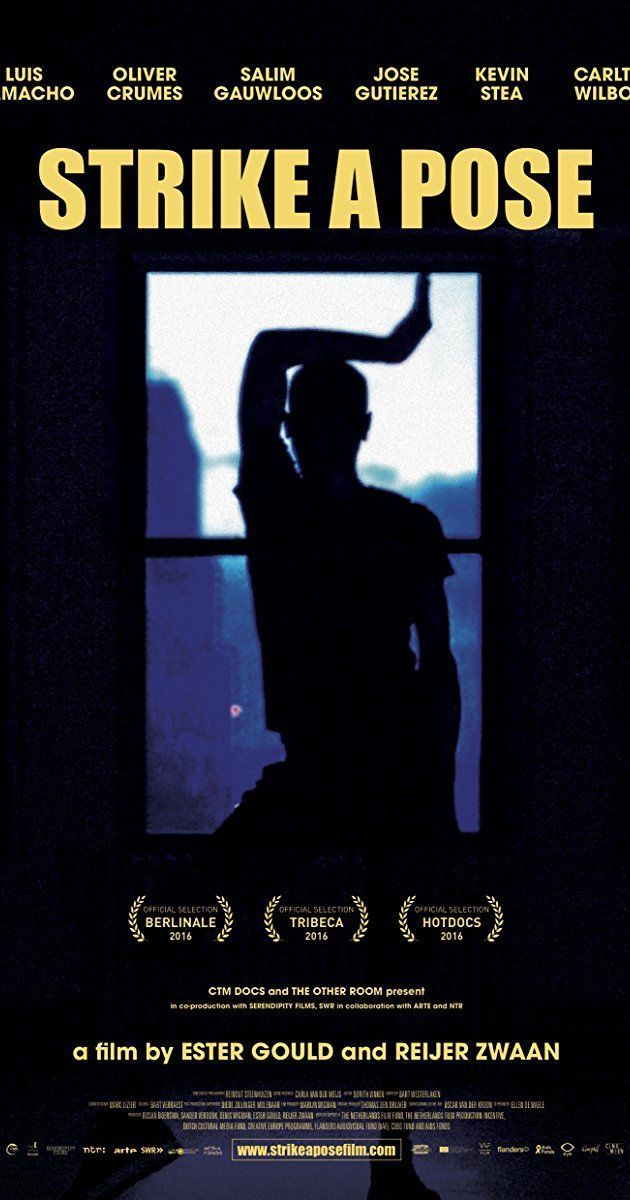 Saturday 14: 5 p.m.: Bram Fischer.
8 p.m.: Strike a Pose
Sunday 15: 5 p.m.: Riphagen.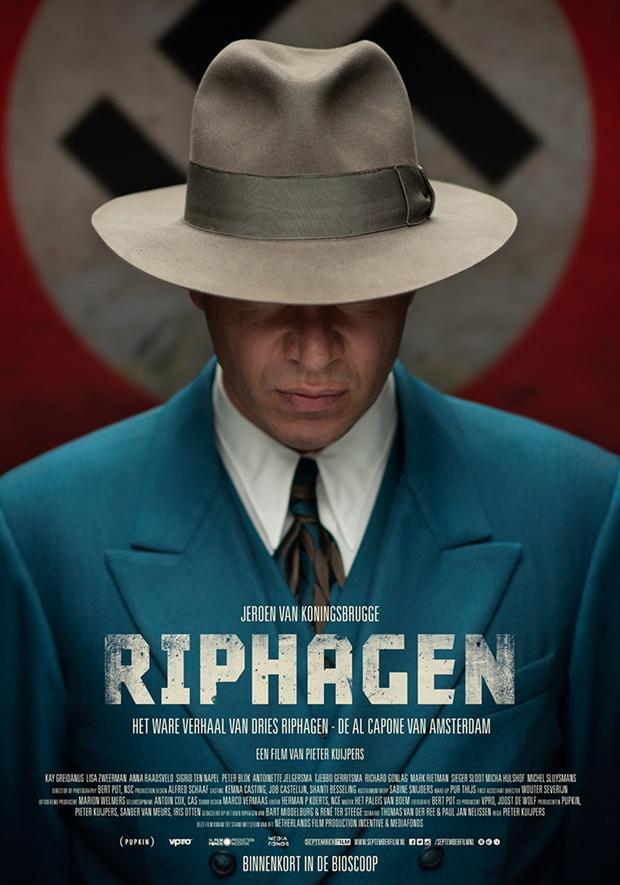 8 p.m.: Bon Bini Holland.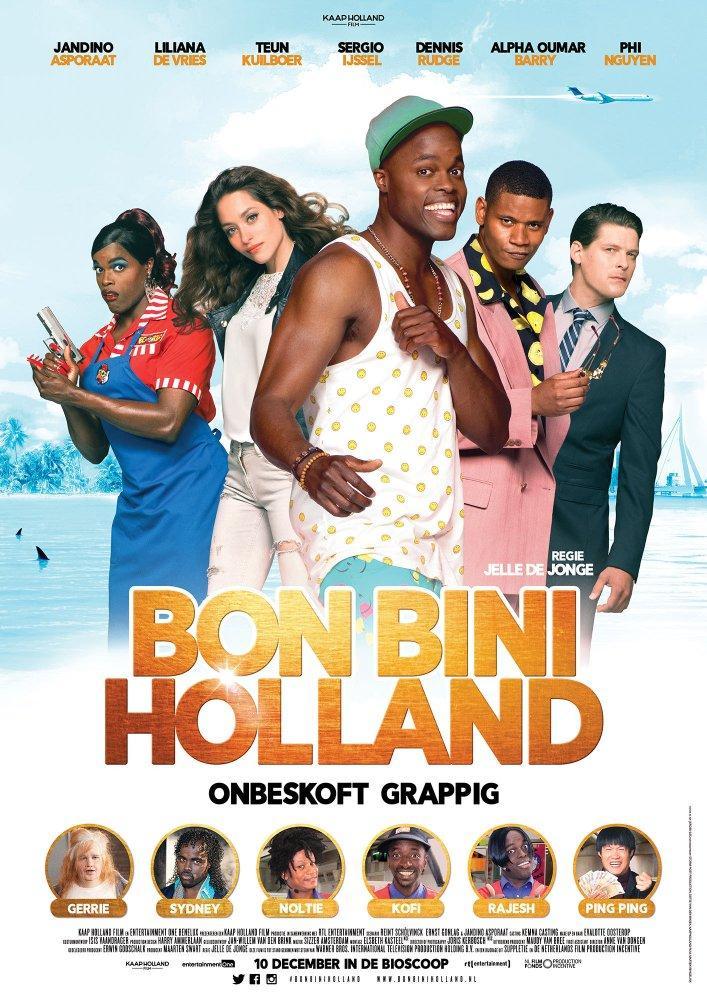 Wednesday 18: 6 p.m.: The suite Paraiso.
Thursday 19: 6 p.m.: Tonio.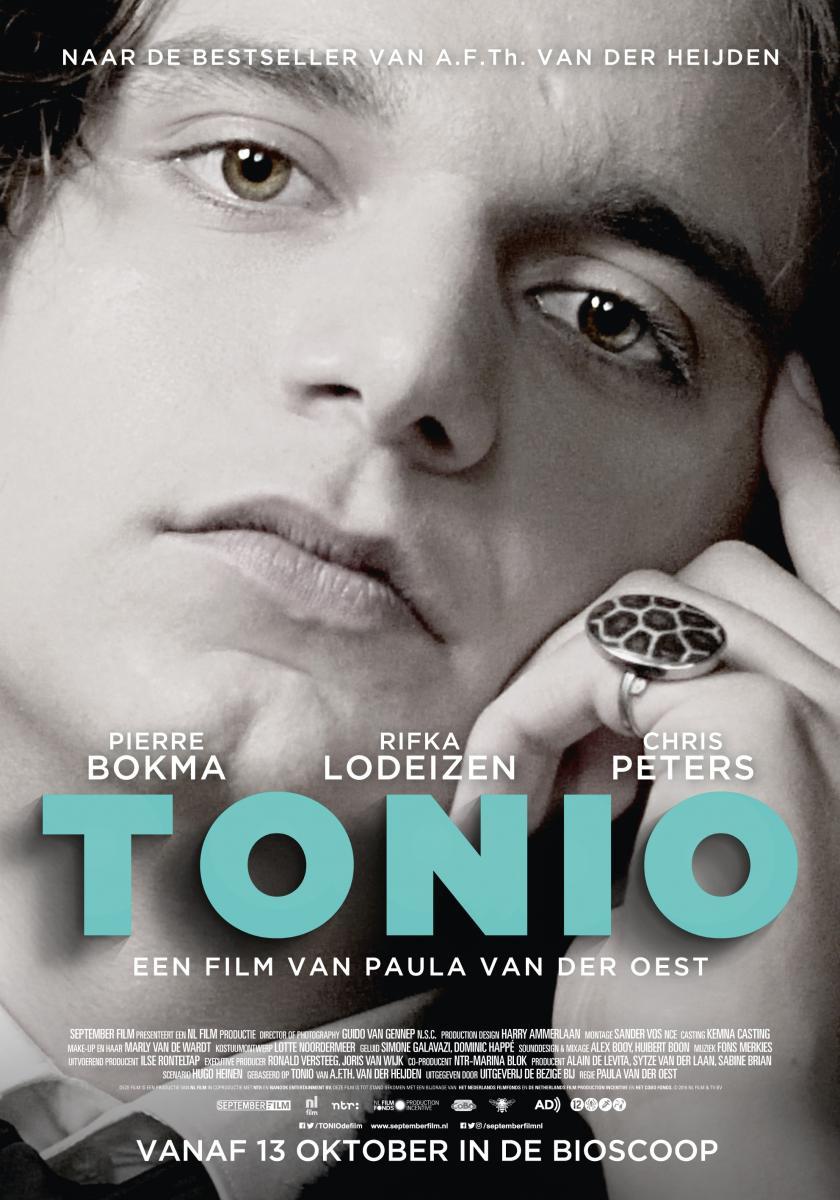 Authors