The Cuban government appealed this Thursday to the international community to "stop the foolishness and irresponsibility" of the new U.S. sanctions.
"The world can't afford to remain impassive while there are summons to destroy countries with impunity," Cuban Foreign Minister Bruno Rodríguez Parrilla said at a press conference, stressing that "we must act before it is too late…for the good of the peoples of Cuba, the United States and of the entire planet."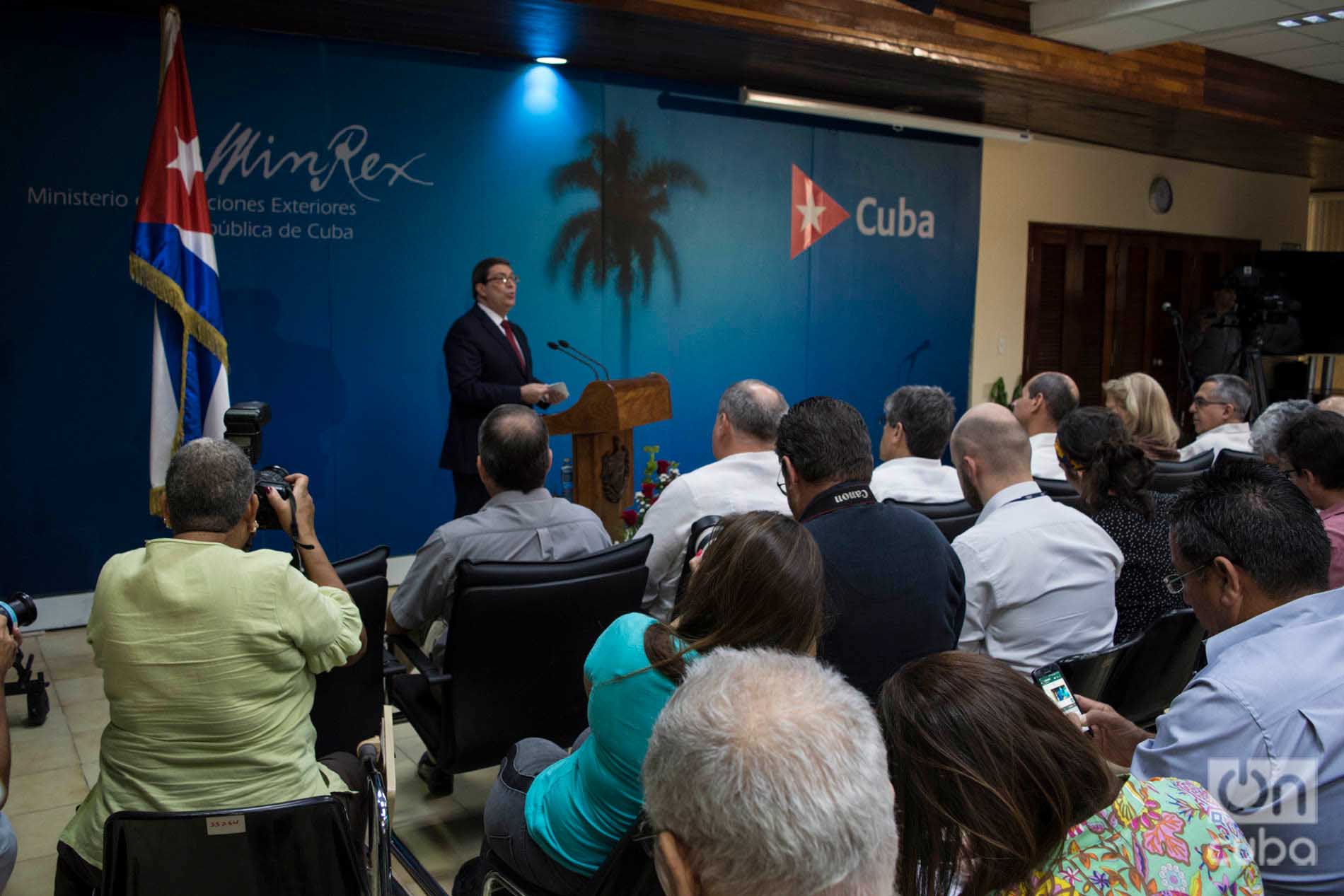 "Cuba will respond to aggressions with a greater range in its links with all sectors of U.S. society," said Rodriguez Parrilla. "We will use all the tools at our disposal to intensify communication and cultural relations between our peoples."
#Envivo #CubadebateTV transmite Conferencia de Prensa del Ministro de Relaciones Exteriores de Cuba, Bruno Rodríguez Parrilla

Posted by Cubadebate on Thursday, April 25, 2019
Trump Security Adviser John Bolton announced on April 17 additional measures to strengthen the embargo that will affect remittances and travel.
The activation of Title III of the Helms-Burton Act, which allows filing lawsuits in U.S. courts against companies that are benefiting from properties confiscated after the 1959 Revolution, was also announced.
"The announced measures punish Cubans and all families without exception, in Cuba and also U.S. families and people of goodwill in that country," the foreign minister added.
Rodriguez called on governments, parliaments, social movements and the world of culture and science, and also counted on the action of the UN General Assembly, the World Trade Organization (WTO) and other multilateral bodies against measures that "punish the Cuban and U.S. people."
"Cuban families should not be hostages of internal political struggles in the United States," lamented the foreign minister, who acknowledged the impact that the sanctions pose for the Cuban economy and for the incipient private sector: "they will generate shortages for our people," he affirmed.
Uncertainties for the private sector
He warned that the sanctions "will not be able to move an inch the firm determination of Cubans' resistance, nor will they bring closer to reality the old desire to overthrow the Cuban Revolution and control Cuba's fate."
"I am sure that these measures, although they will have a probable impact on the Cuban economy, are doomed to failure. Their main benefit will be to generate more isolation for U.S. policy against Cuba. The Cuban economy today is in much better shape than years ago," he said.
The decision of U.S. President Donald Trump's administration to toughen the financial embargo on the island aims to worsen the economic crisis that the country is already suffering as a result of the crisis in Venezuela, its main economic ally, the decrease in exports, the inefficiency of state enterprises and recent meteorological disasters.
Trump, Cuba and the 2020 elections
EFE / OnCuba
Authors