More than 400 personalities and organizations from around the world signed a petition addressed to President Biden demanding an immediate end to the embargo/blockade.
The list of signatories includes former heads of state, politicians, intellectuals, scientists, theologians, artists, musicians, leaders and activists. The document maintains that it is time to take a new path in Cuba-United States relations.
The text declares it is inconceivable, especially in times of pandemic, to deprive the island of remittances and the use of financial institutions, taking into account that access to dollars is vital to buy medicines and medical supplies in the international market.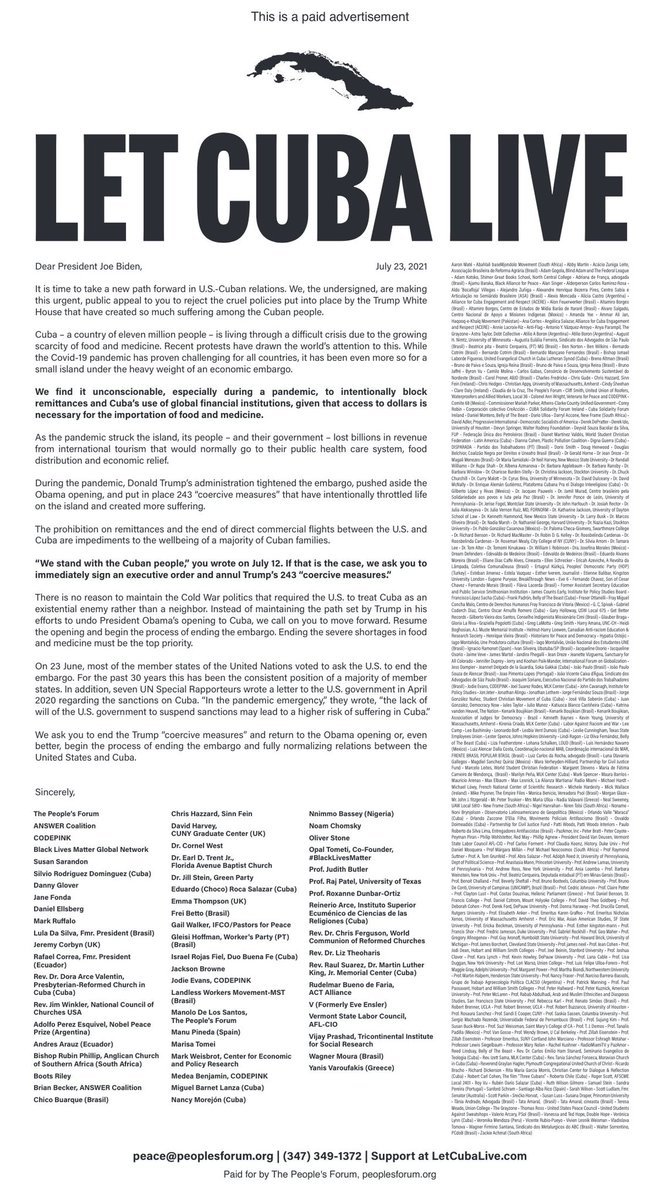 "There is no reason to maintain the Cold War politics that required the U.S. to treat Cuba as an existential enemy rather than as a neighbor. Instead of maintaining the path set by Trump in his efforts to undo President Obama's opening to Cuba, we call on you to move forward. Resume the opening and begin the process of ending the embargo. Ending the severe shortages in food and medicine must be the top priority," the text says.
This request, they say, responds to the almost unanimous condemnation of the world to that hostile policy, according to the last vote of the UN General Assembly on June 23.
The signatories point out that in the midst of the COVID-19 pandemic, the Trump administration imposed 243 measures on Cuba that have strangled its economic-social life and created more problems and suffering.
Among the signatories of the document are actors Jane Fonda, Susan Sarandon, Emma Thompson, Peter Coyote and Dany Glover, former presidents Luis Inacio Lula (Brazil) and Rafael Correa (Ecuador). Singers Jackson Browne (United States) and Chico Buarque (Brazil). Academicians and activists Noam Chomsky (United States), Judith Butler (United States) and Pablo González Casanova (Mexico).
Also Adolfo Pérez Esquivel, Nobel Peace Prize; Gail Walker of Pastors for Peace and filmmaker Oliver Stone.
Among the organizations and movements, Black Lives Matter Global Network, CODEPINK and the Landless Workers Movement of Brazil.
Author