The Cuban Ministry of Public Health (MINSAP) confirmed this Monday morning the existence of 5 new cases of COVID-19 on the island. Thus, the number of infected at the close of this Sunday amounts to 40 throughout the country.
The new patients detected are two tourists from France and Russia―the latter in critical condition―, two Cubans from Spain and a 91-year-old elderly woman, also Cuban, who was in contact with confirmed Canadian tourists last Saturday.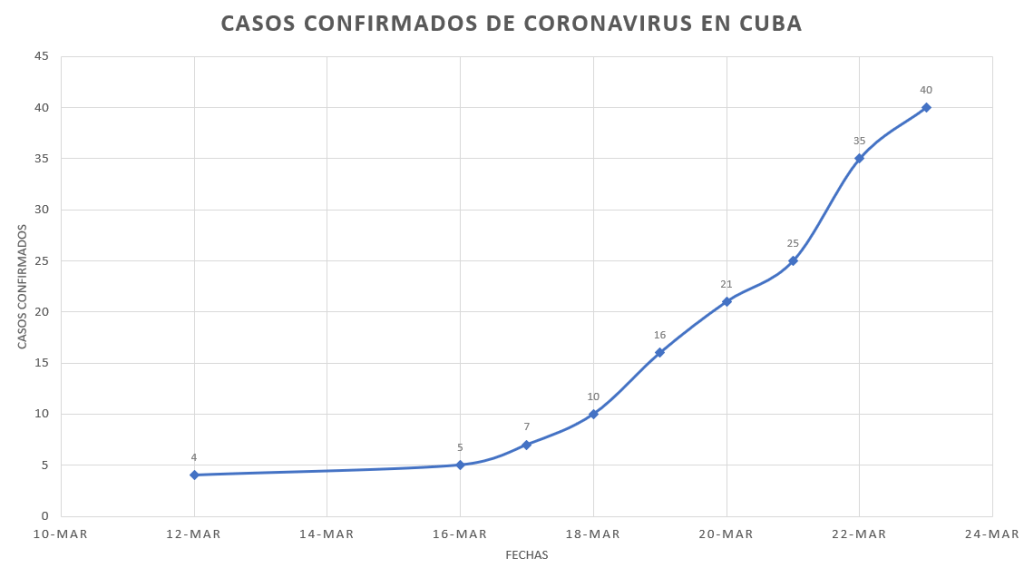 The health authorities, who affirm there is no local transmission in Cuba, also report that two of the patients are reported in a critical condition, one severe, while 35 have a "stable clinical evolution." The figure of 40 confirmed cases is completed with the Italian tourist who died days ago, and the American evacuated to his country.
In addition, until Sunday there were a total of 1,036 patients, of them 531 suspects, were hospitalized for a "clinical-epidemiological surveillance in isolation and care centers created for this purpose," according to MINSAP. Another 37,788 people are also watched at home through Primary Health Care.
Among the new confirmed cases, there is a 45-year-old Russian tourist with a history of diabetes who came to Cuba from France and who began to show symptoms nine days after being on the island. After being detected as suspicious, he was hospitalized in the Pedro Kourí Institute of Tropical Medicine (IPK) in Havana, where he currently remains in critical condition and with a reserved prognosis.
Likewise, a 57-year-old French tourist was confirmed, who began with symptoms eight days after arriving in Cuba and who is currently isolated in the Manuel Piti Fajardo Hospital in Villa Clara, where he maintains a satisfactory evolution until now.
Then there are two Cubans who arrived from Spain, one residing in the Holguin municipality of Banes and the other in the Villa Clara municipality of Camajuaní. Both began to show symptoms several days after their arrival and are currently in hospital institutions in their respective provinces with a satisfactory evolution so far.
A 91-year-old Cuban woman resident in Havana, who had contact with Canadian tourists previously diagnosed with COVID-19, was also reported as positive. She is hospitalized in the Luis Díaz Soto Hospital, with a stable state of health.
In addition to the aforementioned Russian patient, a 63-year-old Cuban with a history of high blood pressure, diabetes mellitus and ischemic heart disease, has also been reported as critical. He is hospitalized in the IPK with a manifestation of severe respiratory failure and assisted ventilation.
For his part, a 71-year-old Italian patient with a history of chronic obstructive pulmonary disease is hospitalized in the Fermín Valdés Domínguez Hospital, and is reported to be in a serious condition but stable.
Globally, the COVID-19 pandemic has already infected more than 358,000 people and killed more than 15,400, while more than 100,600 have recovered. China, Italy, the United States, Spain and Germany are the nations with the highest number of reported cases.
Authors