Cuba commemorated this Monday the third anniversary of the death of Fidel Castro (1926-2016) with homages to remember his legacy throughout the country and extensive coverage in the state media to extol the figure of he who led the country for almost half a century.
The main ceremony was held at the University of Havana, where music and poetry sessions took place with lyrics dedicated to the deceased leader, as well as the screening of videos about his historical feats, between slogans and songs by an audience made up of thousands of students, teachers and other participants.
The event, organized by the Union of Young Communists (UJC) under the motto "Fidel Antiimperialist," was attended by current Cuban President Miguel Díaz-Canel, who did not give a speech and preferred to use the social media Twitter to dedicate his praise to the historical leader of the Revolution.
Emotiva y sentida velada de homenaje al Comandante en Jefe. #Fidel esta presente, vive entre nosotros. #FidelPorSiempre #FidelVive #SomosCuba #SomosContinuidadhttps://t.co/P25szPRCNB vía @PresidenciaCuba

— Miguel Díaz-Canel Bermúdez (@DiazCanelB) November 26, 2019
In the eastern city of Santiago, a parade on horseback was organized to pay tribute to him, as well as a political-cultural event led by UJC members who expressed the commitment to continue his legacy.
In Santa Ifigenia Cemetery, in that same province, flowers were placed in front of the granite rock that keeps the ashes of his mortal remains.
The tributes were also replicated in other regions of the country, such as in Holguin, in the eastern part of the island, where the historical leader was born and where two books inspired by his ideology were presented.
Meanwhile, state newspapers devoted almost all of their pages from Monday's edition to remember and praise the figure of the deceased leader.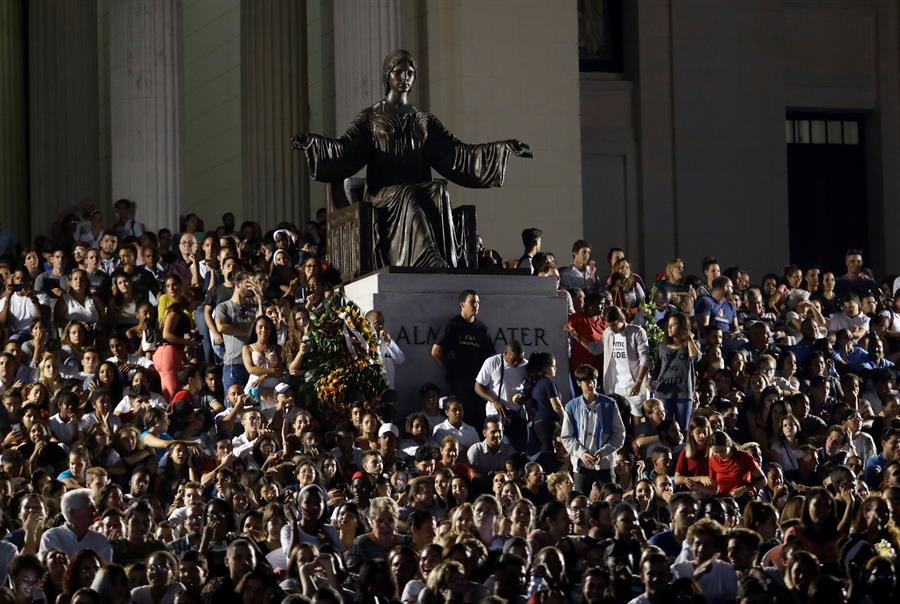 "Contra la noche oscura, como un golpe de amor" (Against the dark night, like a stroke of love) is the title of the editorial that heads the website of the newspaper Granma, which states that "Fidel is alive" to, among other things, give continuity to the "tireless work to make of socialism a certain possibility" in Latin America and the world.
A great deal of Cuban television's broadcasts also paid tribute to Fidel Castro who died on November 25, 2026 at 90, eight years after officially delegating power to his brother Raul.
Authors