A call was circulating yesterday on social networks for Cubans to go out to their balconies and windows to applaud the doctors who are already fighting against COVID-19.
"Eternal applause to Cuban and world doctors. Today at 9.00 pm, just after the cannon blast, we pay tribute. A beautiful, moving gesture we'll continue to repeat every night," wrote Cuban journalist Raúl Rodríguez on his Facebook account.
The date is at 9 at night, from now on, every day. It's the emblematic hour for Havanans, after they hear the boom and feel the tremor that in many areas of the city left by the cannon blast, night after night, from the fortress of La Cabaña at the entrance to the bay.
A custom that comes from the times of the colony, when the city was surrounded by a wall, and the cannon blast served to warn of the closing of its doors.
"I just confessed it to some friends: I went out, applauded, and it was the moment of greatest happiness in the last days. Surely there will be more of us tomorrow," wrote Tania Pino, professor at the Faculty of Communication at the University of Havana, also on Facebook.
https://www.facebook.com/camila.fernandezdelvalle/videos/2847871771968035/?t=0
Some on social media were still complaining that the applause had not been perceived so much, but of course it was the first night.
"The applause in my neighborhood was quite shy. I hope next time more neighbors will join, the health workers of the world, and especially Cubans, deserve it," wrote Jorge Gómez de Mello, editor of the magazine Artcrónica.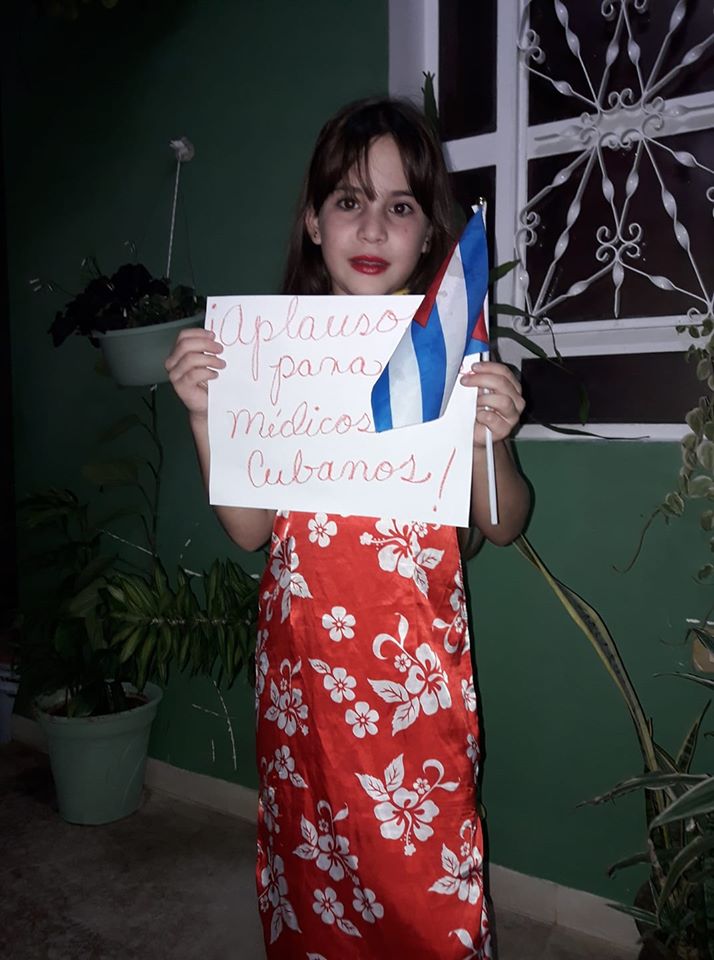 The call through the networks has used photos like this where a girl holds a poster encouraging applause for doctors. But the call has still not circulated much on the networks.
By spreading, probably in more municipalities of Havana and perhaps in other provinces, it will become a tradition. As well as in Spain, where every night, at 8 pm, applause is dedicated to all the health workers: not only doctors, but also nurses, paramedics, cleaning staff. They have been stationed in hospitals for weeks, facing the pandemic that in Spain is being a real nightmare and accumulates more than 6,500 deaths.
In Cuba, as of Sunday morning, 139 were infected and three had died. The authorities have taken isolation measures for suspicious cases, in-depth screenings are carried out through the health areas, and the population has been called to stay home and use facemasks as a protection measure.
The day before, it was learned that a municipality in Pinar del Río, Consolación del Sur, where four confirmed cases of COVID-19 have been reported, has imposed a night curfew, to limit population's movements.
Authors