Cuban President Miguel Díaz-Canel met this Tuesday with a group of Russian businesspeople, to whom he assured that Cuba, despite the blockade, will maintain its development programs and protect the interests of foreign investors.
In the meeting, with which the Cuban president began the second day of his working visit to Russia, businesspeople linked to economic sectors such as transportation, energy, exports and tourism participated, reported Cuba's Presidency.
Díaz-Canel explained to the Russian entrepreneurs the situation in his country "due to the reinforcement of the U.S. blockade and reiterated the position of not making concessions and preserving the interests of foreign companies," he said on his official Twitter account.
The Cuban president stressed that the economic-commercial relations between Cuba and Russia are moving forward with the realization of important agreements.
"This has been possible because of the political will of the Russian government and, in addition, because of the interest shown by Russian businesspeople in strengthening economic-commercial and scientific-technical relations between Cuba and Russia," he said.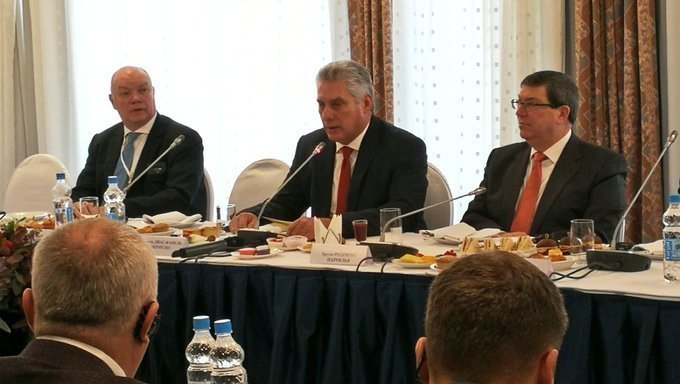 He also thanked the "Russian financial banking institutions for their support," which has made it possible, he said, "to achieve a sustained increase in commercial exchange since 2016."
Díaz-Canel met this Tuesday with Russian President Vladimir Putin and Prime Minister Dmitry Medvedev.
The talks between the two heads of state were held in Novo-Ogariovo, Putin's country residence on the outskirts of Moscow.
The Kremlin advanced in a statement that both leaders would address "the future deepening of the Russian-Cuban strategic partnership in different areas and exchange views on the current problems of the international agenda."
This will be Díaz-Canel's first meeting with Putin in his capacity as president of Cuba.
The Russian leader already received Díaz-Canel in 2018, when he held the position of president of the Councils of State and of Ministers, and in 2016, when he was vice president.
Authors