The High Representative of the European Union (EU) for Foreign Affairs and Security Policy, Federica Mogherini, met this Monday with Cuban President Miguel Díaz-Canel as part of her official visit to the island.
Mogherini and Díaz-Canel spoke in "a cordial environment" after the holding in Havana of the second Cuba-EU Joint Council, in which the bloc reaffirmed to the Cuban authorities its "deep interest" in consolidating its relations with the island and playing an "important role" in the development of the Cuban economy.
The head of European diplomacy and the Cuban president talked about the Council and "the implementation of the Agreement on Political Dialogue and Cooperation" between the two parties, in force on a provisional basis for two years.
In addition, they talked about "the good state of bilateral relations" and about the "intensification of the blockade" of the United States against Cuba, and its "extraterritorial effects," as well as "other issues on the international agenda," said the island's Foreign Ministry note, without giving further details.
The meeting also included the ambassador of the European Union in Cuba, Alberto Navarro, the director of the EU for the Americas, Edita Hrda, and Cuban Foreign Minister Bruno Rodríguez, along with other officials, said the note.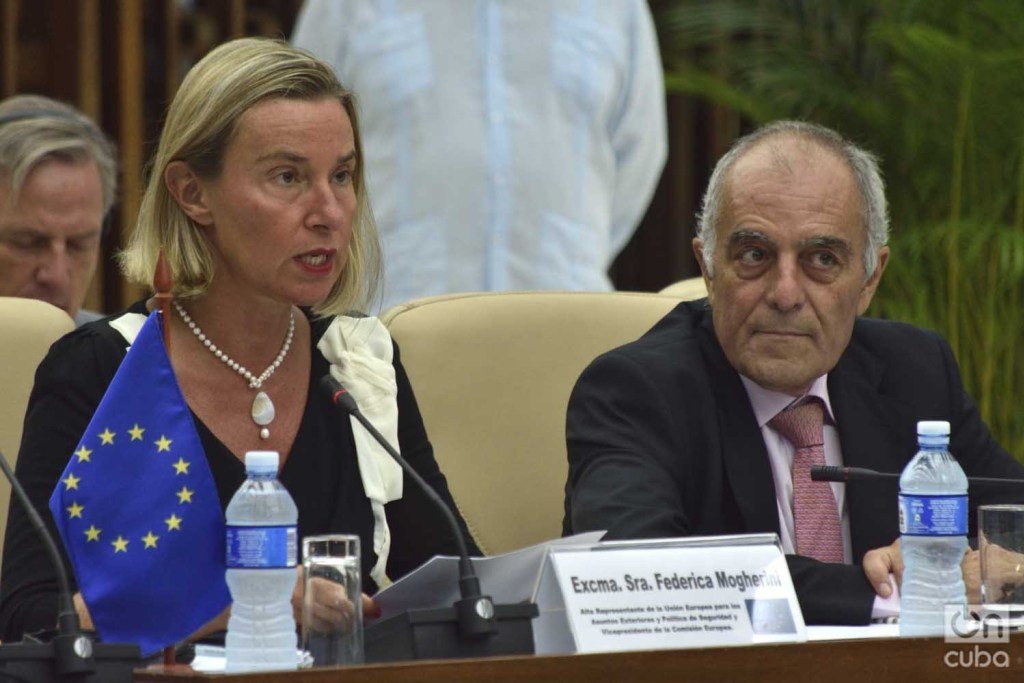 This Monday, Cuba and the EU held their second Joint Council, in which delegations from both sides discussed bilateral ties and cooperation. In addition, they agreed to "strengthen the monitoring" of the political dialogues already carried out on issues such as human rights and sustainable development, and launched "new sectorial dialogues on issues such as agriculture, energy, climate change and the environment."
They also announced the "imminent start-up" of a new initiative, named Transcultura, endowed with 15 million euros to "support cultural cooperation in Cuba and the Caribbean," condemned U.S. extraterritorial measures against Cuba, in particular the full activation of the Helms-Burton Act, and discussed issues on the international agenda, with emphasis on the crisis in Venezuela.
On the meeting, Mogherini commented that "frank, open and very constructive discussions took place, even on issues where we have different perspectives," while the Cuban foreign minister said that they "mark a new cycle" in bilateral relations and confirmed that "it is possible to build spaces for mutually beneficial dialogue and cooperation while respecting our differences."
Authors