This week we'll celebrate the 35 career years of Luiba Maria Hevia. The proposal is a concert with the National Symphonic Orchestra next Sunday, so you can enjoy her music and all the memories from these years.
Also, in Music there will be many other concerts. In Visual Arts, an expo and promising conference.In Theatre one season of Teatro de la Luna in Adolfo Llaurado theater. In Cinema, one week of Japanese films in FAC, and all the FAC proposals of course.
If you don't know what to do, here's your solution: search and find. After…see you 'round!
Liuba celebrates 35 years of music
Next Sunday, July 22nd, at 5 pm, in Avellaneda hall of the National Theater, Liuba will perform with the National Symphonic Orchestra in a concerts for all ages.


During the concert Liuba will invite Camara Vocal Leo Choir, National Children's Choir, Solfa, Olas from Schola Cantorum Coralina, Cuban Art Factory children's choir, Enid Rosales and Roxana, Frasis's violinist.

Omara always
Omara Portuondo in concert, tomorrow saturday 21st, at 9 p.m, in San Francisco de Asís Square, Old Havana.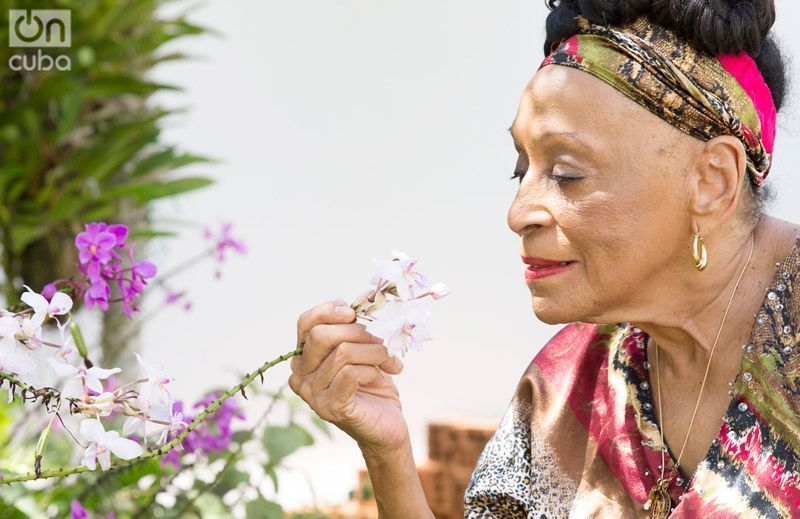 Weekend with Ivette
Ivette Cepeda and her group Reflexion announce their presentations today, at 10 pm, in El Tablao of the Great Theater of Havana, and tomorrow, at 11 pm, in Cafe Miramar.

Kelvis in Fine Arts
Kelvis Ochoa concert today, at 8 pm, in the Fine Arts Museum courtyard.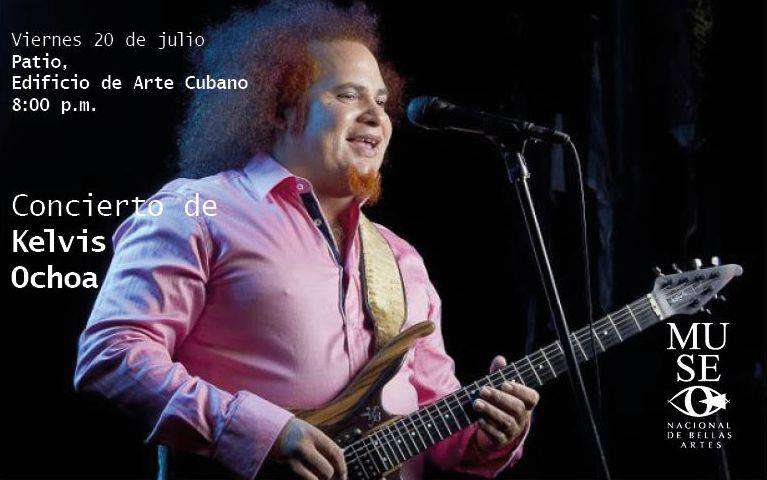 Cuba Loves Jazz with Idania Valdés
Next Tuesday 24th, Idania Valdes in concert in El Tablao of the Great Theater of Havana. Don't miss it. 8 pm!

Classics in Old Havana
Play out today with the Concert National Band, directed by maestro Igor Corcuera, in Plaza de Armas, at 4pm.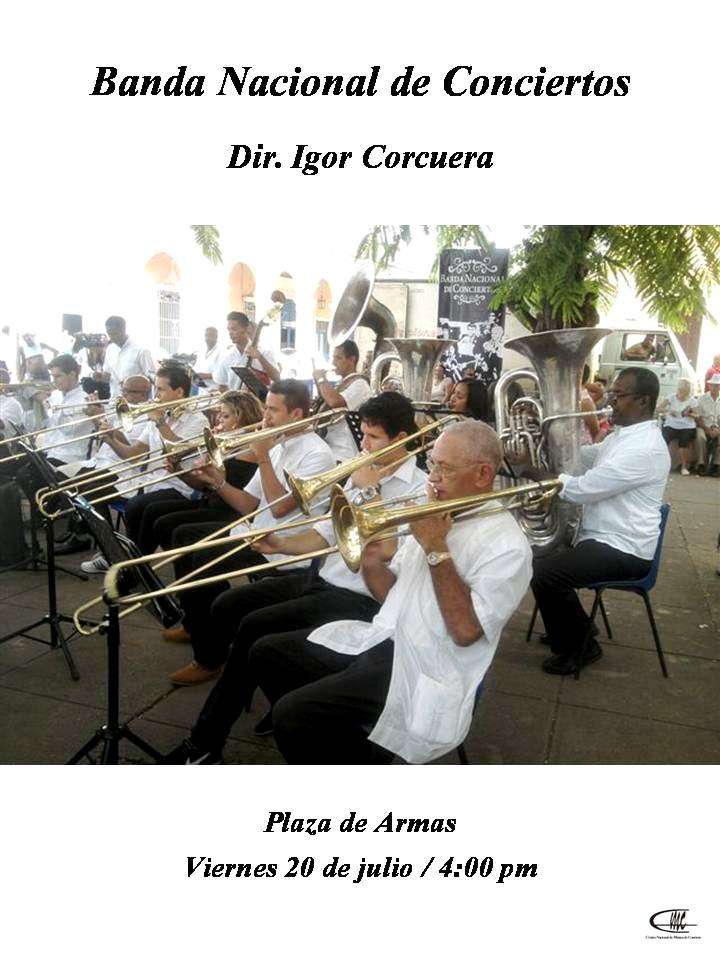 Clandestine concert
Jorgito Kamankola will be in concert today, at 6pm, in La azotea de Yaneidis (Calzada St. 1057 btw 12 and 14, Vedado). Don't miss it.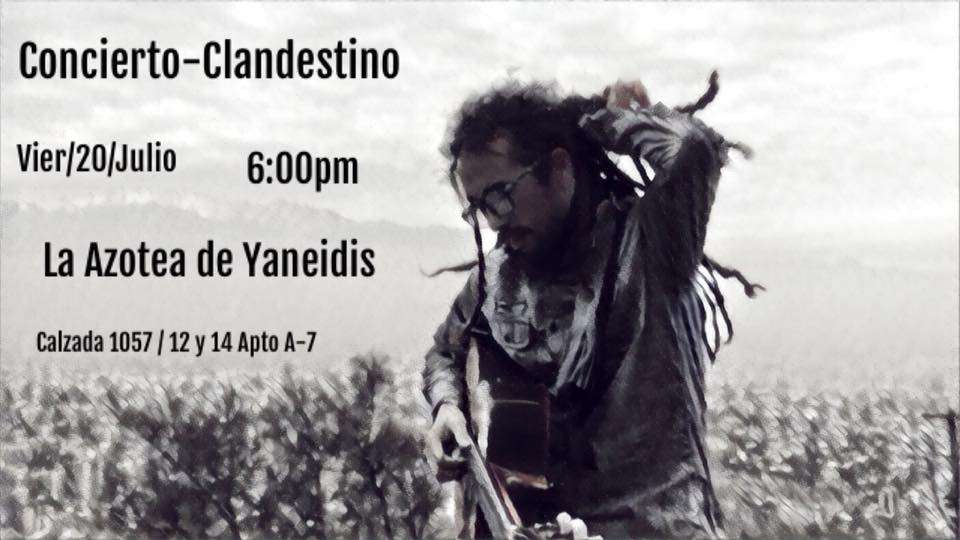 Cimafunk ending his summer
Tomorrow, at 11 pm, Cimafunk will celebrate the first anivversary of ZAFRA Media in Bertolt Brecht. This will be his last concert for the summer, so go!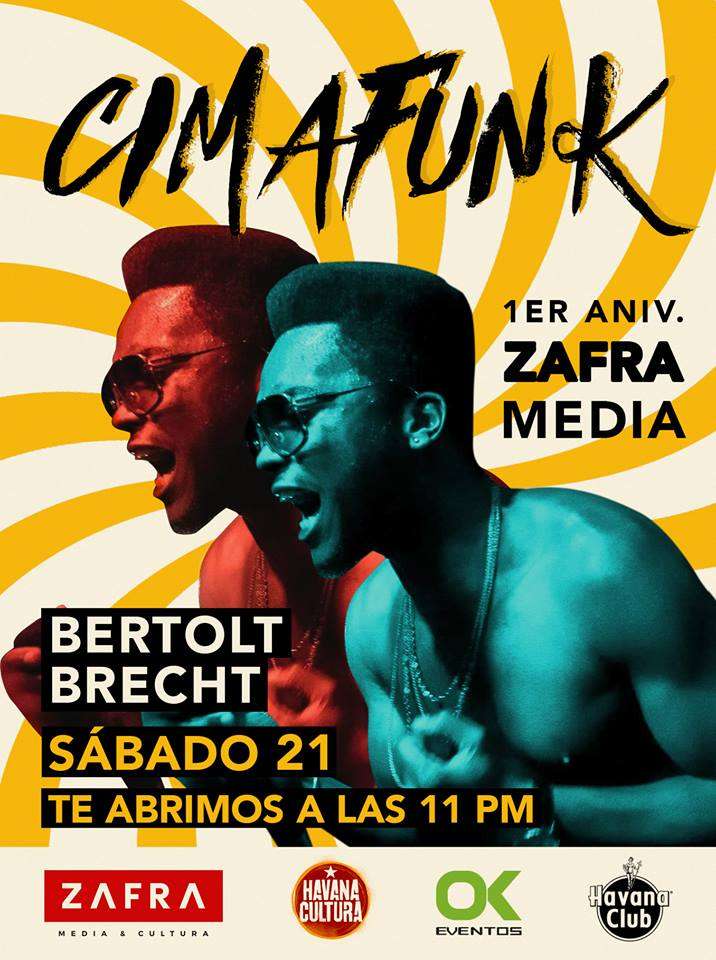 Teatro de la Luna on stage
El banquete infinito, written by Alberto Pedro and directed this time by Raul Martinez, will have a season in Adolfo Llaurado hall. Until August 16th, every Tuesday, Wednesday and Thursday, at 7 pm.

The other studio in FAC
You're all invited to the collective expo inauguration by artists from El otro estudio, in FAC, today, at 6.30 pm.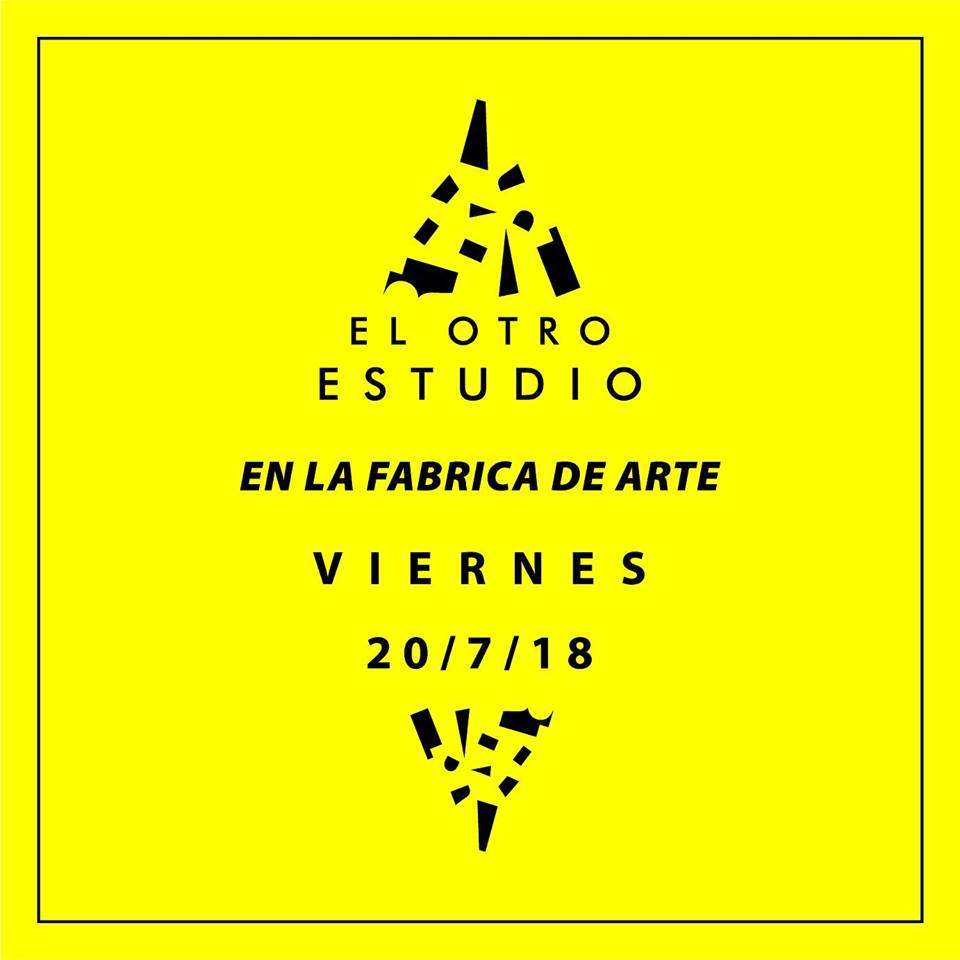 The memory of things
Next Monday, July 23rd, you're all invited to the conference "La memoria de las cosas: fotografia, materialidad y afecto" by Jorge Moreno Andres. This will be organized by Laboratorio Escenico de Experimentacion Social and Casa Editorial Tablas-Alarcos. It will take place at 4 pm in La Incubadora (E St. btw 21st and 23rd, # 504, Vedado).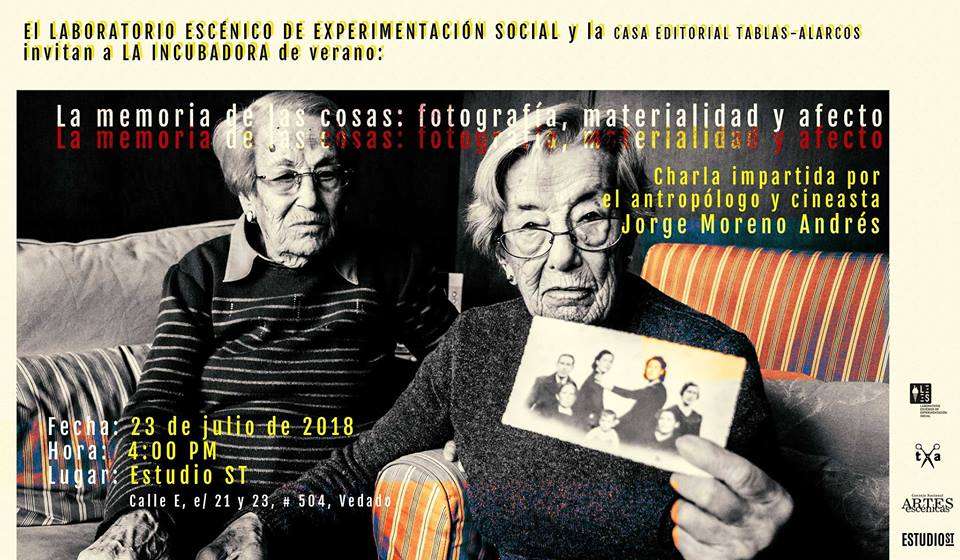 Let's go to FAC
FRIDAY, JULY 20TH
7 pm: Documentary presentation "Los cercanos dias del amor" by Yosiri Lopez, and the book presentation "Mirame asi. Habanera y guajiros de Servando Cabrera" by their writers Rosemary Rodriguez and Neida Peñalver. Nave 3.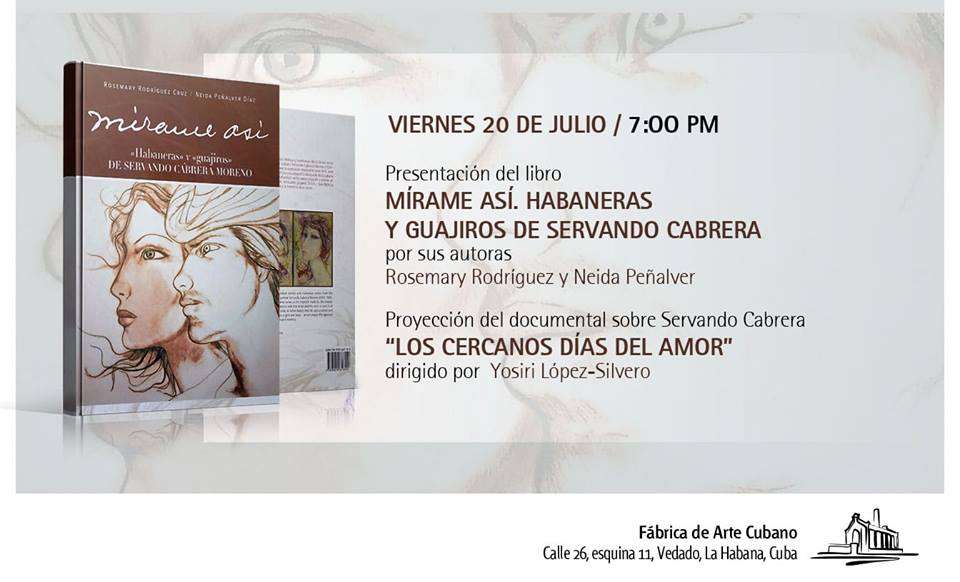 9 pm: Impomadrid company (Spain) with the play "Jardines". Nave 3.
9:30 pm: Session DJ Producer: Ivan Lejardi. Nave 1.
11 pm: Tesis de Menta in concert. Nave 4.
12am: Open Jazz Jam with Andy Garcia and Jazz tu sabes. Nave 1.
SATURDAY, JULY 21st
9pm: Collection: Summer Collage by designer Luis Gzl. Nave 3.
9:30 pm: Session DJ Producer: Ivan Lejardi. Nave 1.
10.30 pm: ADN Music. Invited: Real Project. Nave 4.
11pm: Real Project in concert. Nave 4.
12:00 am: Rock and Roll in FAC: Aire Libre group. Nave 1.
SUNDAY, JULY 22nd
9pm: Play: "Farandula". Directed by Jazz Vila. Nave 3.
10pm: Yai Varcacel in concert. Nave 1.
10pm: Group A teatro limpio presents "Quien da mas?". Nave 5.
11pm: Ivan Latour in concert. Nave 4.
11:30 pm: Session DJ Producer: Ivan Lejardi. Nave 1.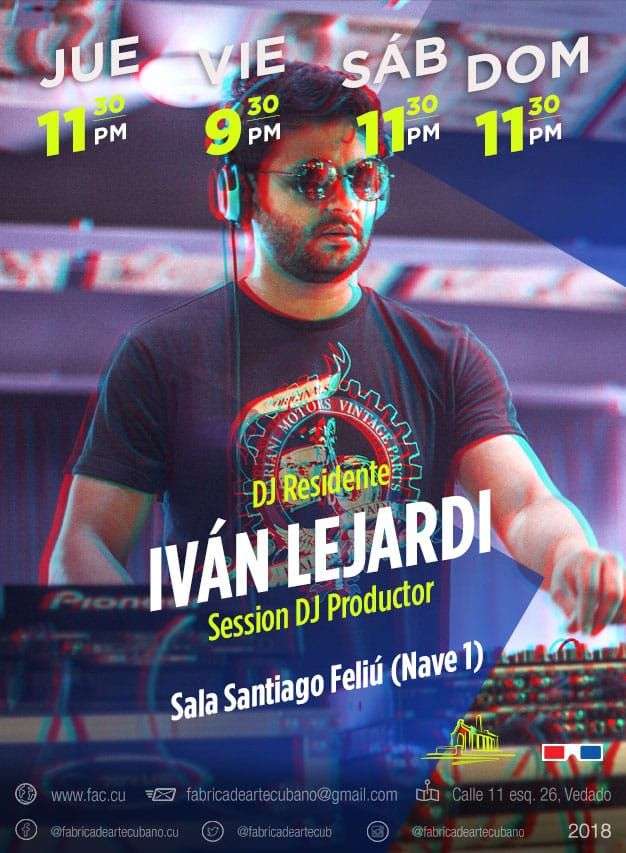 7th art in FAC
As a tribute for the 120 anniversary of Japanese migration, the Japan Embassy in Cuba invites to the Japanese Film Week in FAC. Entrance is free and only for this weekend, at 7.30 pm in Nave 5.


Authors