The Gibara International Film Festival is almost here. One week to enjoy cinema and more in the western Cuba. In the White Village you'll fell like home, and there will be a lot to do. Recommendation is don't miss it for the world.
We'll have cinema also in Havana with a Spanish Film Show. In Music, especial concert with Charles Fox, one of the most important composers in the world. But also David Blanco, Ethiel Failde and Hector Tellez Jr. will have concerts. In Visual Arts, more than one inauguration. In Theater, one presentation of Jazz Vila Project and the unipersonal Dudo is still in Trianon theater.
In Comedy, inauguration and program of Aquelarre festival so you can have a blast. And as always, FAC.
Follow our lead. Action is on. See you around!

Gibara is coming
There will be 45 films in competition this year in the 14th Gibara International Film Festival, happening from July 1st to 7th and will be dedicated to childhood and youth. For this edition the selection committee chose 26 fiction works between films and shorts, 16 documentaries and 3 animations. Check the official Selection here.
Silvio Rodriguez will open the Festival this Sunday 1st, in Plaza Da Silva. Another artists will be in concert during the week, like Kelvis Ohoa, David Torrens, David Blanco, Pancho Cespedes, Interactivo, Cimafunk, Luis Barberia, Michel Herrera, Rodrigo Sosa and others. For the closure there ́s a possible Fito Paez concert…let's see.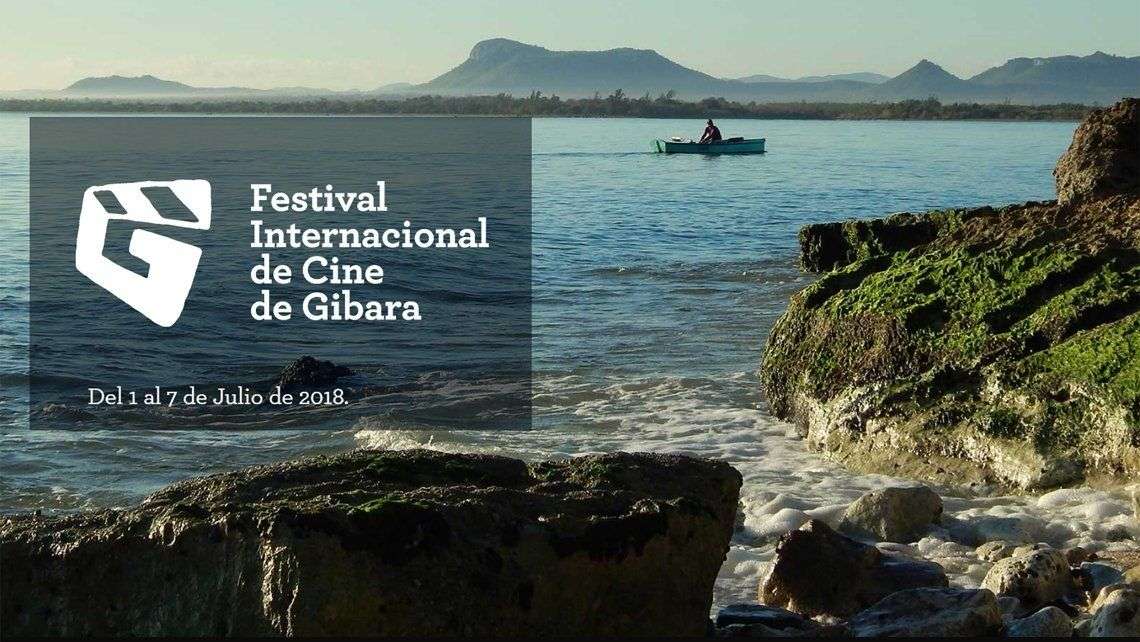 But if all that is not enough, there will be a screening of restored copies of Lucia, directed by Humberto Solas and Memorias del subdesarrollo, directed by Tomas Gutierrez Alea. Also dance companies and theater companies will perform. Among the international personalities attending the festival will be Benicio del Toro, who ́ll present the Terry Gilliam film Fear and loathing in Las Vegas. The Mexican actor and director Demian Bichir will be also in Gibara, as well as the American director Laurie Ann Schamg and the British producer and filmmaker Stephen Bayly.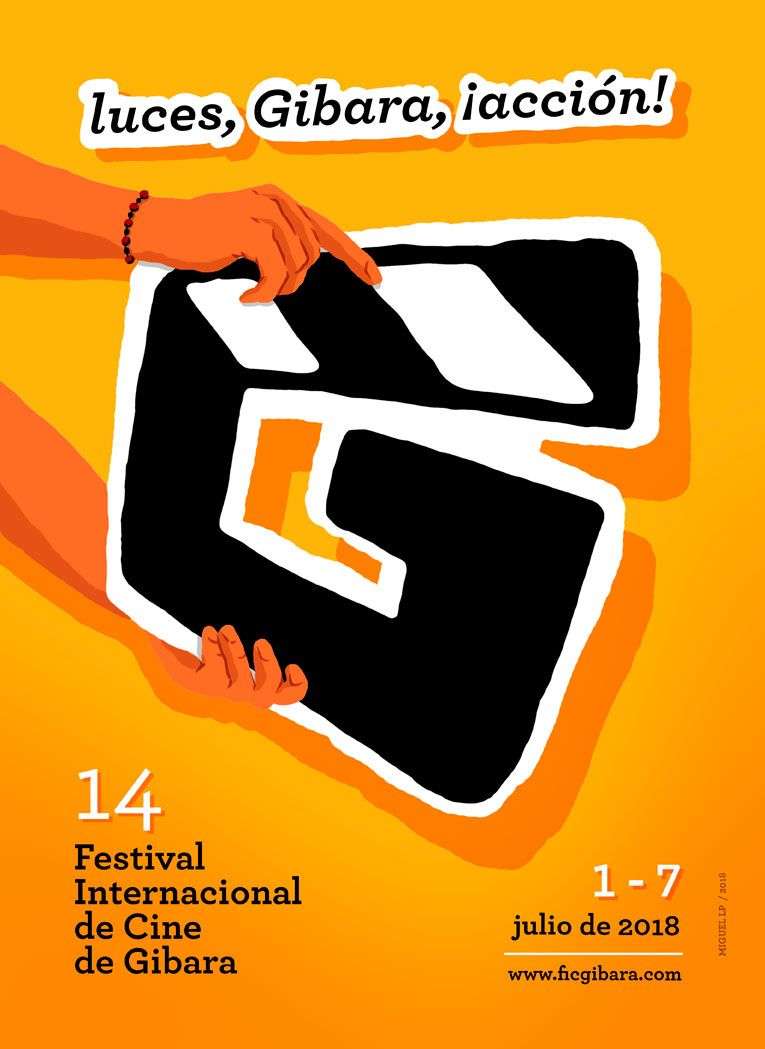 More Spanish cinema in Havana
The Spanish film show continues in cinemas 23 y 12 and Acapulco. Every presentation will have a restore Latin-American ICAIC News screening. Here you have the program: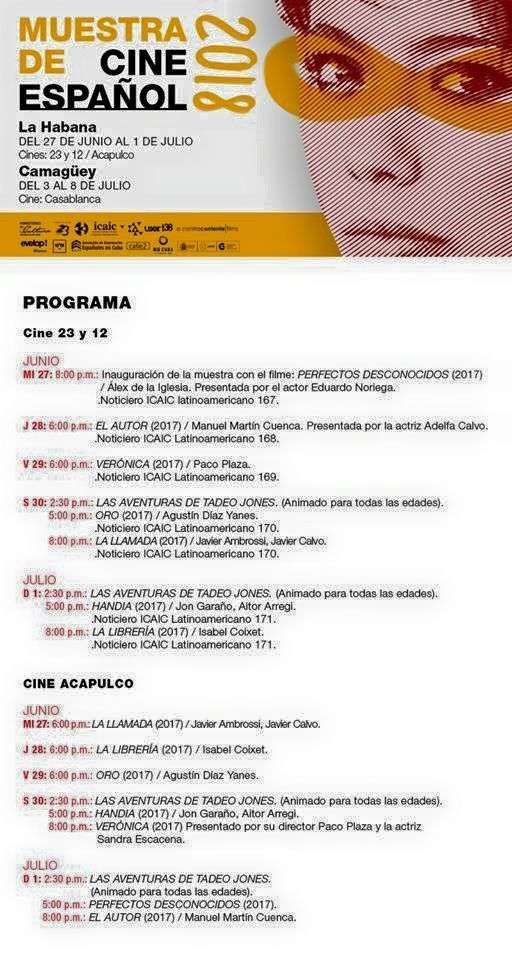 Havana Dreams
Charles Fox, one of the most important world composers will be in concert in the Great Theater of Havana, tomorrow, at 8:30 pm, and on Sunday, 5 pm.
https://oncubamagazine.com/noticia/charles-fox-celebra-cuba-55-anos-carrera/
The concert name is Havana Dream and will be the first of several concerts in different world cities to celebrate his 55 years of artistic life. Charles invites Cristian Alejandro to his concert as the lead singer, and Omara Portuondo will perform too.

David Blanco in UH
David Blanco will offer a concert in the University of Havana today, at 8 pm.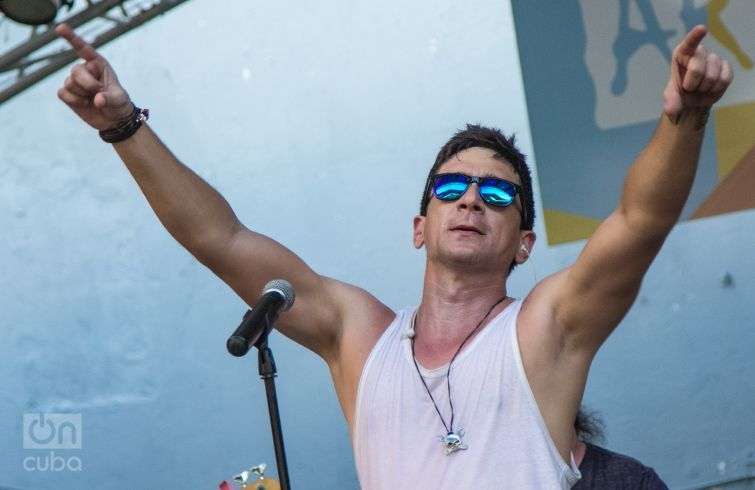 Failde with Omara
Great concert of the Orchestra Miguel Failde with Omara Portuondo as special guest. Next Sunday, at 5 pm, in Casa de la Musica in Artemisa.

Parties with BandEra
BandEra Studio invita a sus fiestas cada domingo de julio, a las 11 p.m., en el Bar Paparazzi (calle 20 e/ 7ma y 9na, Playa). Cada noche con música en vivo y exposiciones de otros proyectos sobre moda, tatuajes, diseño y toda la diversión posible.
BandEra Studio invites to their parties every Sunday of July, at 11 pm, in Bar Paparazzi (20 St. btw 7th and 9th, Playa). Live music and expos and lots of fun. Next July 1st, Hector Tellez Jr. will play. Free entrance!

Cuba Loves Jazz
Alejandro Falcon and Cubadentro in concert in El Tablao, Great Theater of Havana. Tuesday, July 3rd, 9 pm.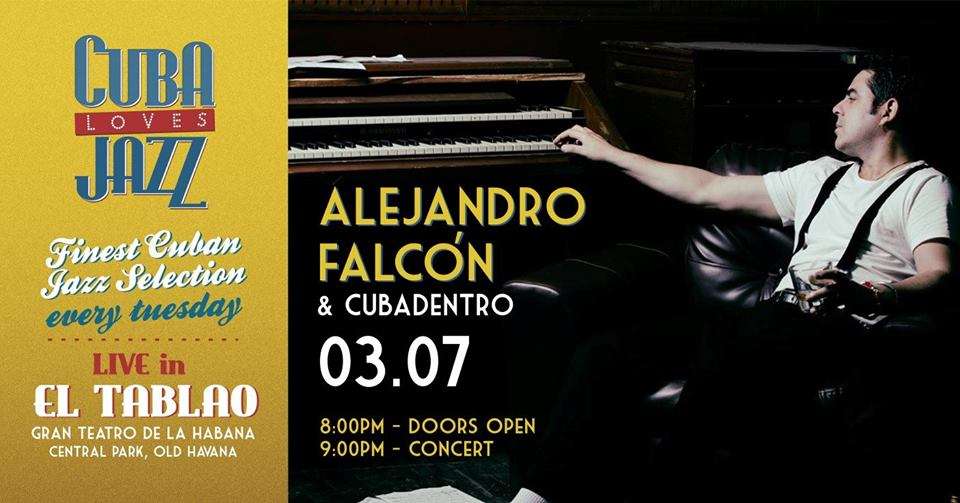 Gay Pride in La Marca
La Marca ends the Gay Pride celebrations with Cineclub CUIR. These guys begin the May 17th tattooing and they will close it dancing. So you know, tomorrow, 8:30 pm, in Obrapia 108C btw Oficios and Mercaderes, Old Havana.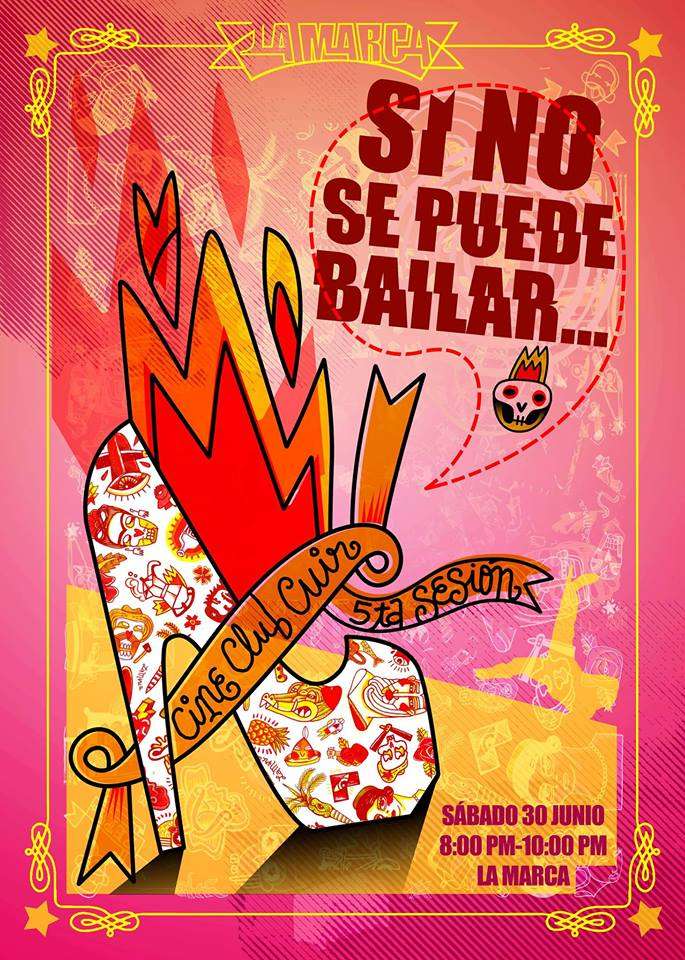 Athanai in Gibara
Athanai will be in concert also in Gibara! Next Monday, July 2nd, at 10 pm.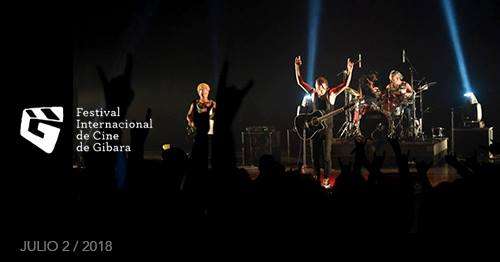 La Arenera
This the title of Yaniek Tolentinos expo to be inaugurated next Thursday 5th, in La Pared Negra in FAC, at 6:30 pm. The exhibit with be there until July 29th and the curator is Gretel Murell.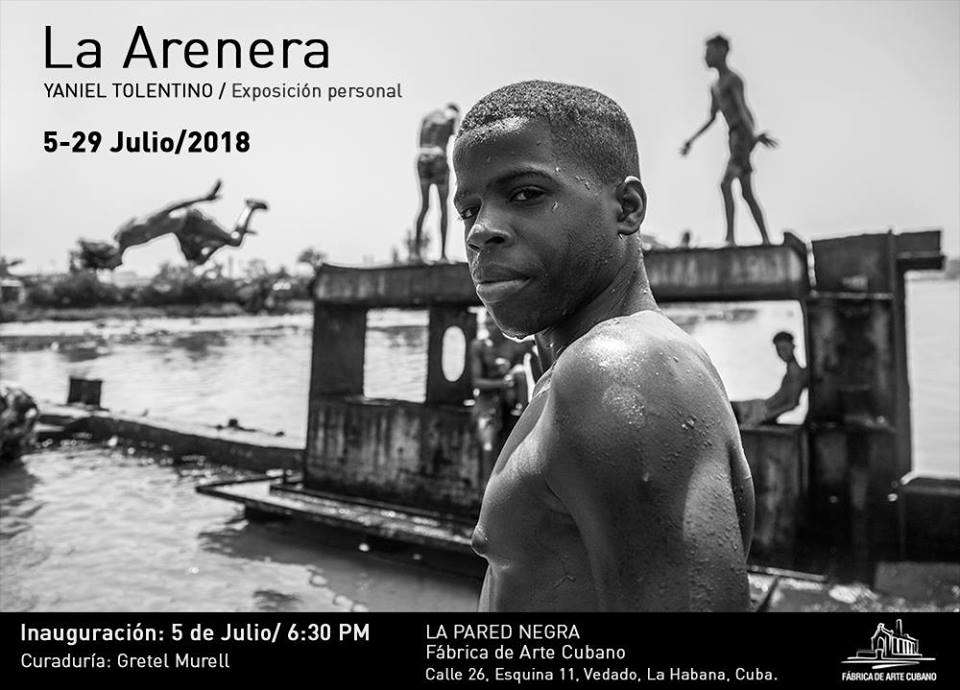 Of kings and deaths
Muere un rey entre Fuentes y jardines, expo by Dayron Gallardo. Inauguration today, at 6 pm, in Gallery Calle 8 (8th St. 306, btw 13 and 15).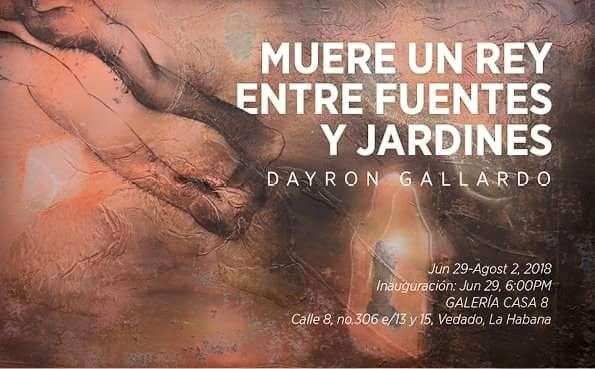 Smell like rain
Today, at 6 pm, collective expo in tribute to Academia San Alejandro, in Centro de Desarrollo de las Artes Visuales (San Ignacio corner to Teniente Rey, Old Havana).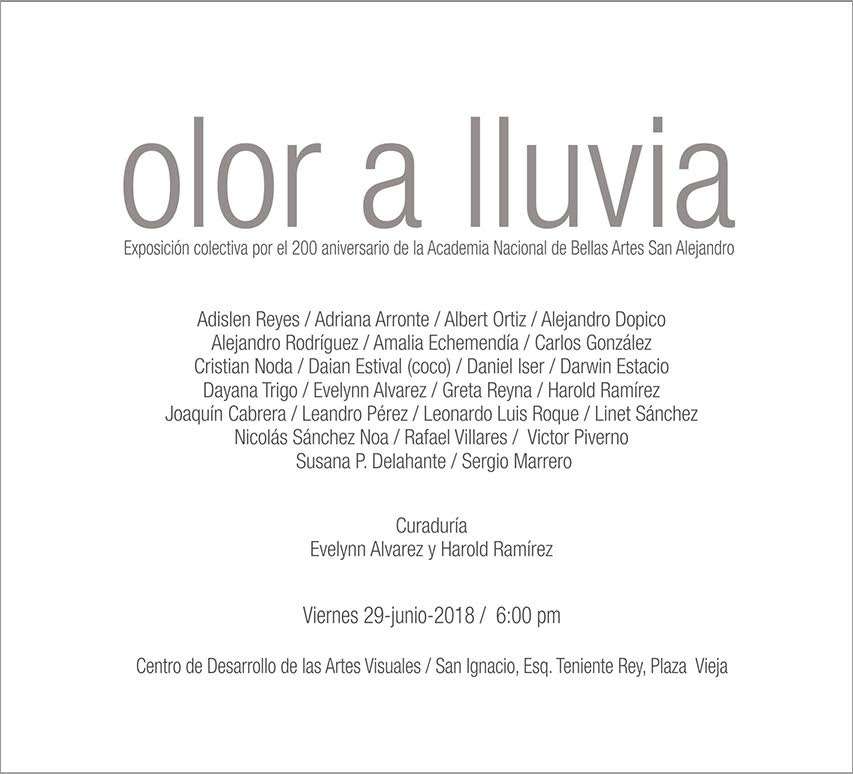 One and only
Jazz Vila Project invites to a single presentation of the play El Pequeno. Tomorrow, at 11 am, in Teatro Arenal (41st Ave. and 39, Playa).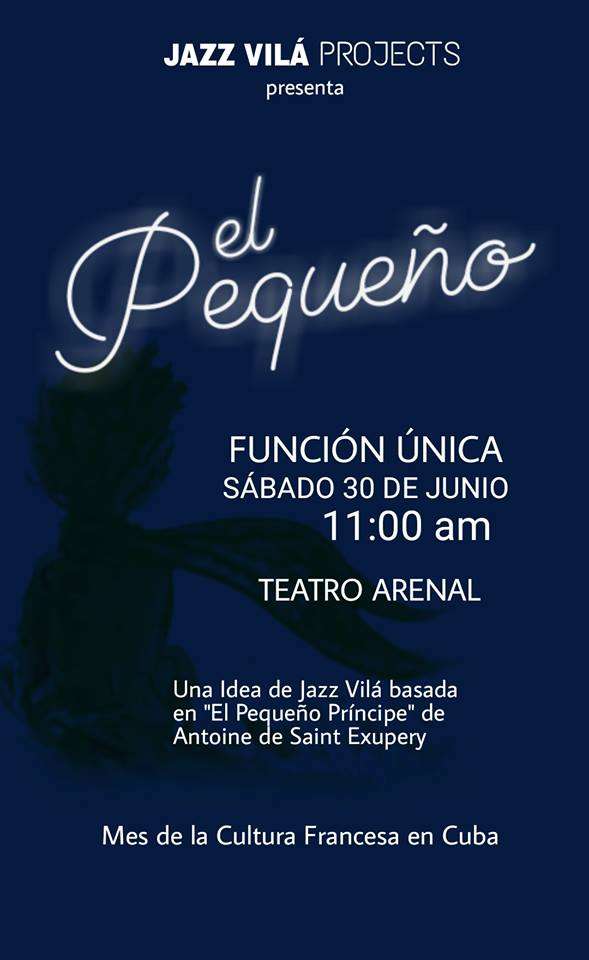 Dudo in Trianón
Still going on the play Dudo in Trianon theater in usual hours.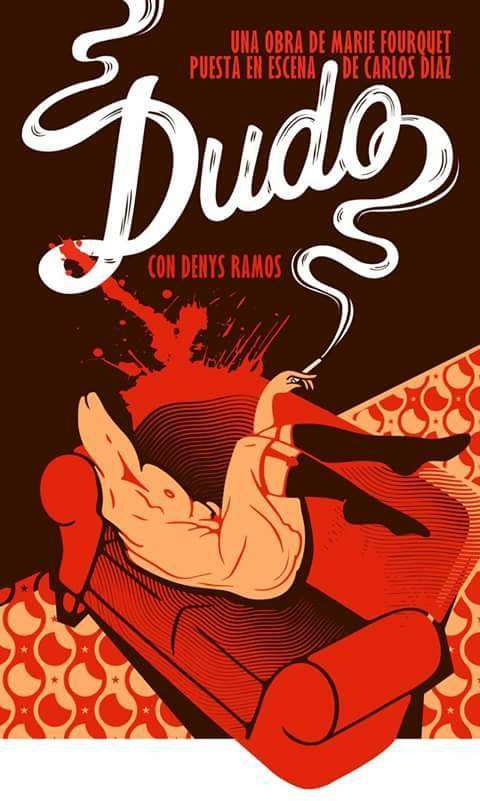 Laugh with Aquelarre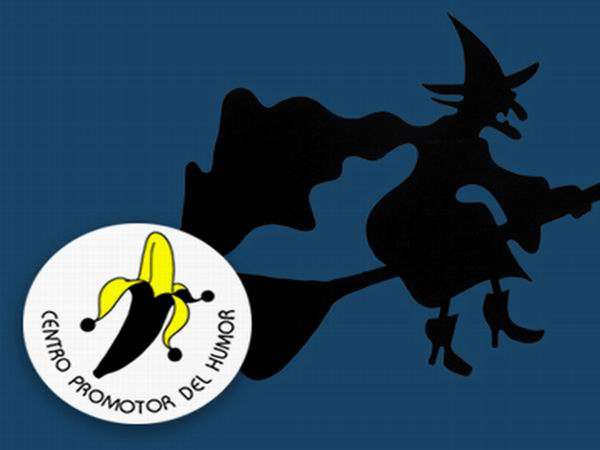 Festival Aquelarre 2018 will begin next Sunday in Theater Karl Marx, with the comedy show Estan todos imitados, with Osvaldo Doimeadios, Ramon Mustelier, Michel Penton and the lyric singer Giraldo Carmenate as a special guest.
In Karl Marx will be also the premier of the show Hasta que la Wi-Fi nos separe, from July 3rd to 7th, with Panfilo, Facundo, Otto Ortiz and El Colorao.
The Festival closure will be July 8th with a big comedy show and music. Everything at 9 pm.

Let's go to FAC
FRIDAY, JUNE 29TH
9 pm: Dance: Special presentation of Malandain Ballet Biarritz in an exchange with the Ballet National School Fernando Alonso. Project curated by Xavier D'Arthuys in collaboration with FAC. Nave 3.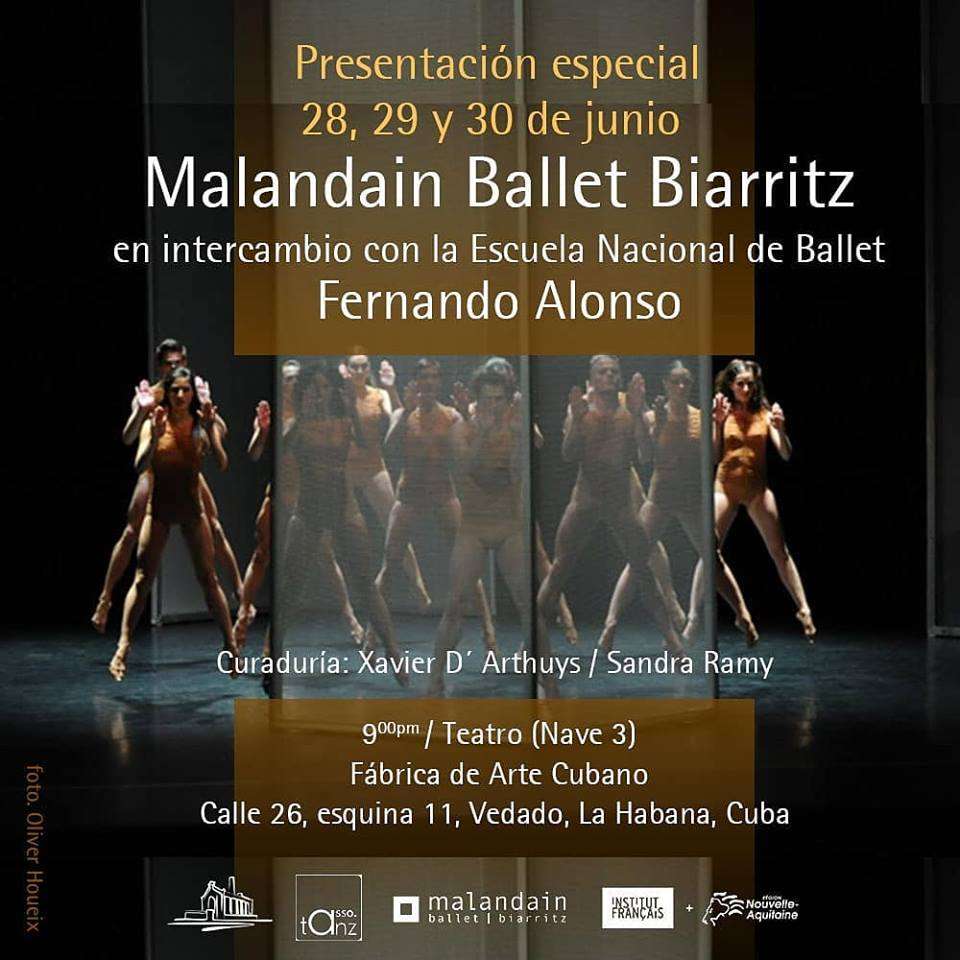 10 pm: Hector Quintana and his guests in concert. Nave 1.
11pm: X Alfonso and Roberto Fonseca in concert. Nave 4.
11:30 pm: Session DJ Producer: Ivan Lejardi. Nave 1.
SATURDAY, JUNE 30th
9pm: Dance: Special presentation of Malandain Ballet Biarritz in an exchange with the Ballet National School Fernando Alonso. Project curated by Xavier D'Arthuys in collaboration with FAC. Nave 3.
9:30 pm: Session DJ Producer: Ivan Lejardi. Nave 1.
11pm: Dayme Arocena in concert. Nave 4.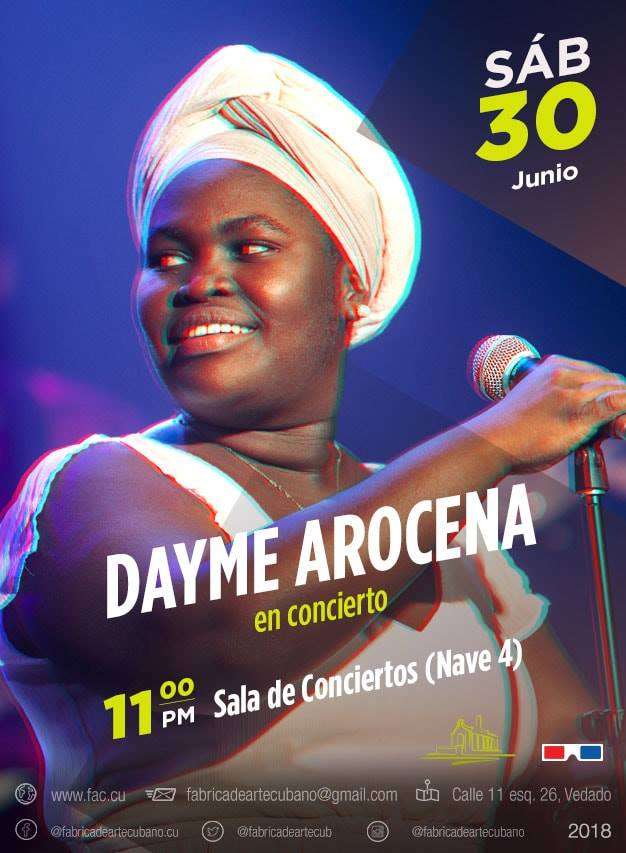 12:00 am: Rock and Roll in FAC: 0 es 3 Group. Nave 1.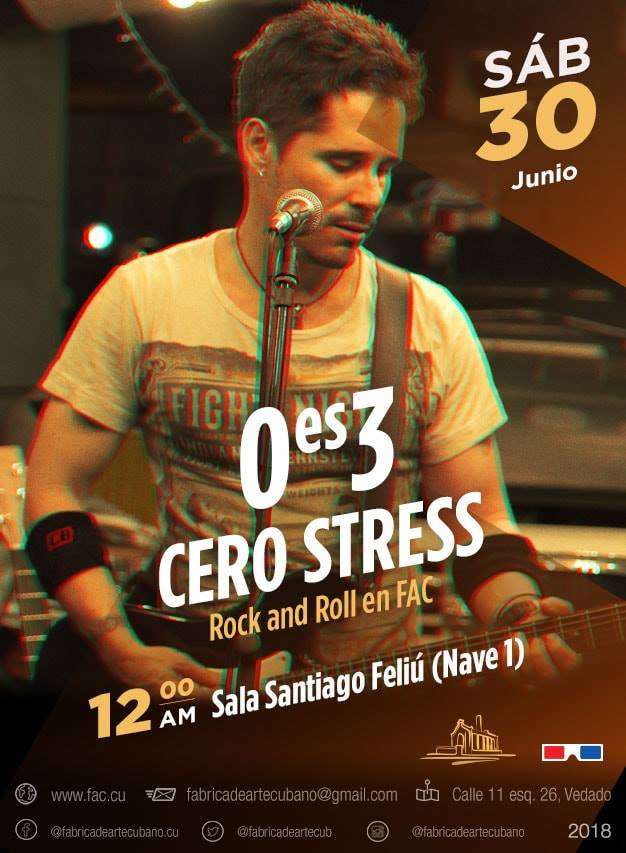 SUNDAY, July 1st
9pm: Play: "Farandula". Directed by Jazz Vila. Nave 3.
10pm: Oscar Sanchez in concert. Nave 1.
10pm: Teatro del Caballero presents De paris un caballero. Nave 5.
11pm: Jan Cruz in concert. Nave 4.
11:30 pm: Session DJ Producer: Ivan Lejardi. Nave 1.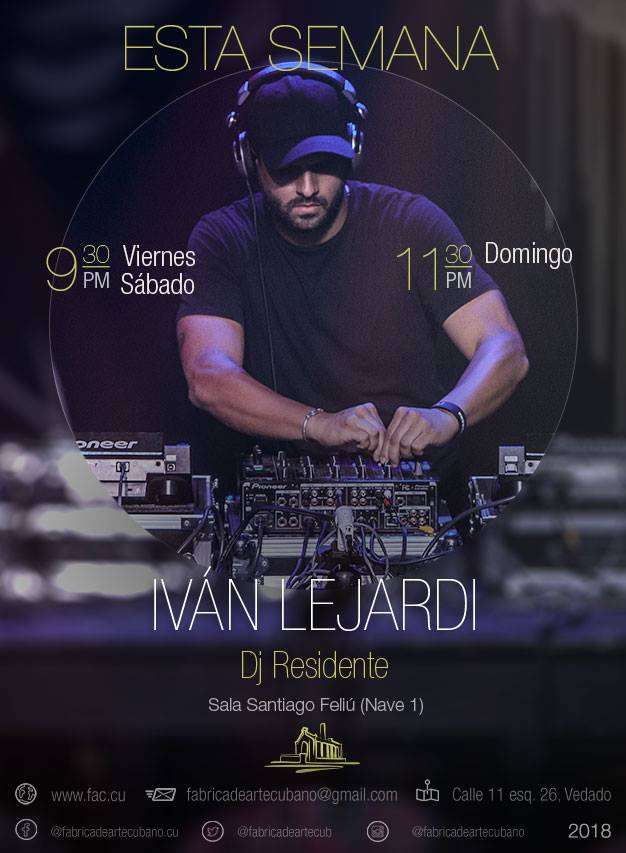 Authors