Roll the curtains. Let the show begins. The 17th edition of the Havana Theater Festival is here. Cuban and foreign participants arrive to the capital to go on the stage. Theater, Society and Resistance are the mojos. No need for anything else. What you have to know to choose a play is down below. Lets hope for applauses.
Yet, like every week, there're more. The Swedish Cinema Shown is already recommended. In Visual Arts you'll have a lot to choose. In Literature there's the presentation of Elpidio Valdés. Los inicios, a super recommendation. In Music is Huelva Cultura with much more than music in a cycle of Hispanic culture in Cuba, and also other concerts celebrating Cuban culture day. Of course, you can go to the Art Factory too, you'll see the program for this weekend.
So here you have. Theater route is marked from today to 29th. We'll be walking the road to keep you posted. You just have to follow us (here or in Facebook). See you around!
Theater, Society and Resistance
From today until October 29th the curtains roll to turn Havana into the theater city. In this 17th edition of the Havana International Theater Festival will participate 10 Cuban provinces, 15 castings and artist from France, Germany, Greece, Argentina, Mexico, Chile, Dominican Republic, Spain, Norway and Brazil.
Program includes two presentations of Carmen by the Cuban National Ballet, and the show Defilló by the Contemporary Dance Company of Dominican Republic. Main theaters will be the usual Linea St. circuit, Alicia Alonso and Cuban National Theaters, Fine Arts National Museum hall, El Arca, El Ciervo Encantado and Army Square.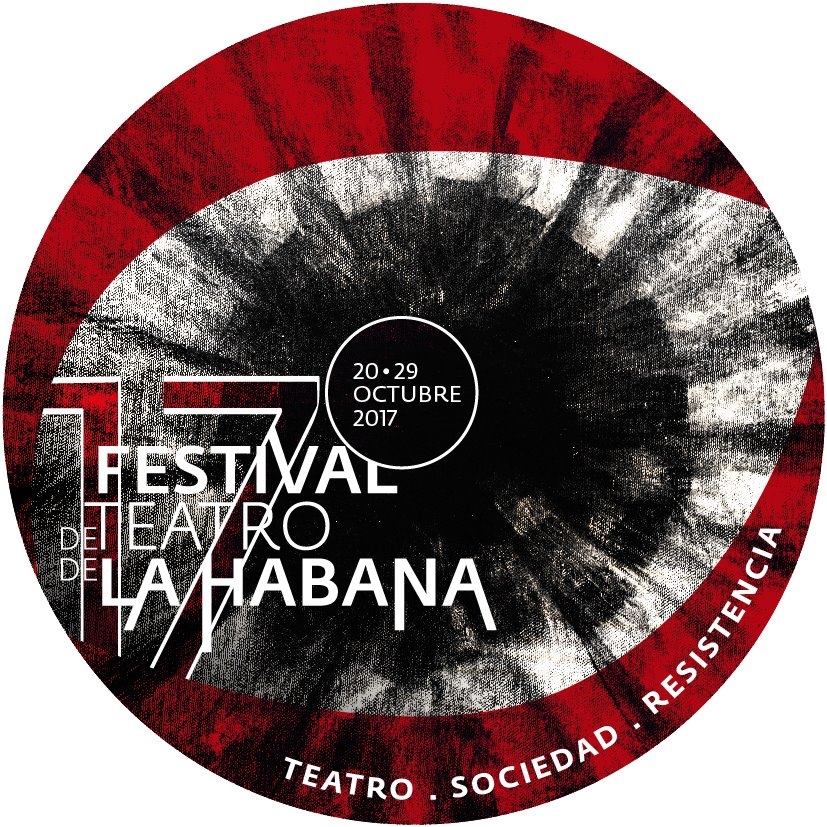 Here it is the program: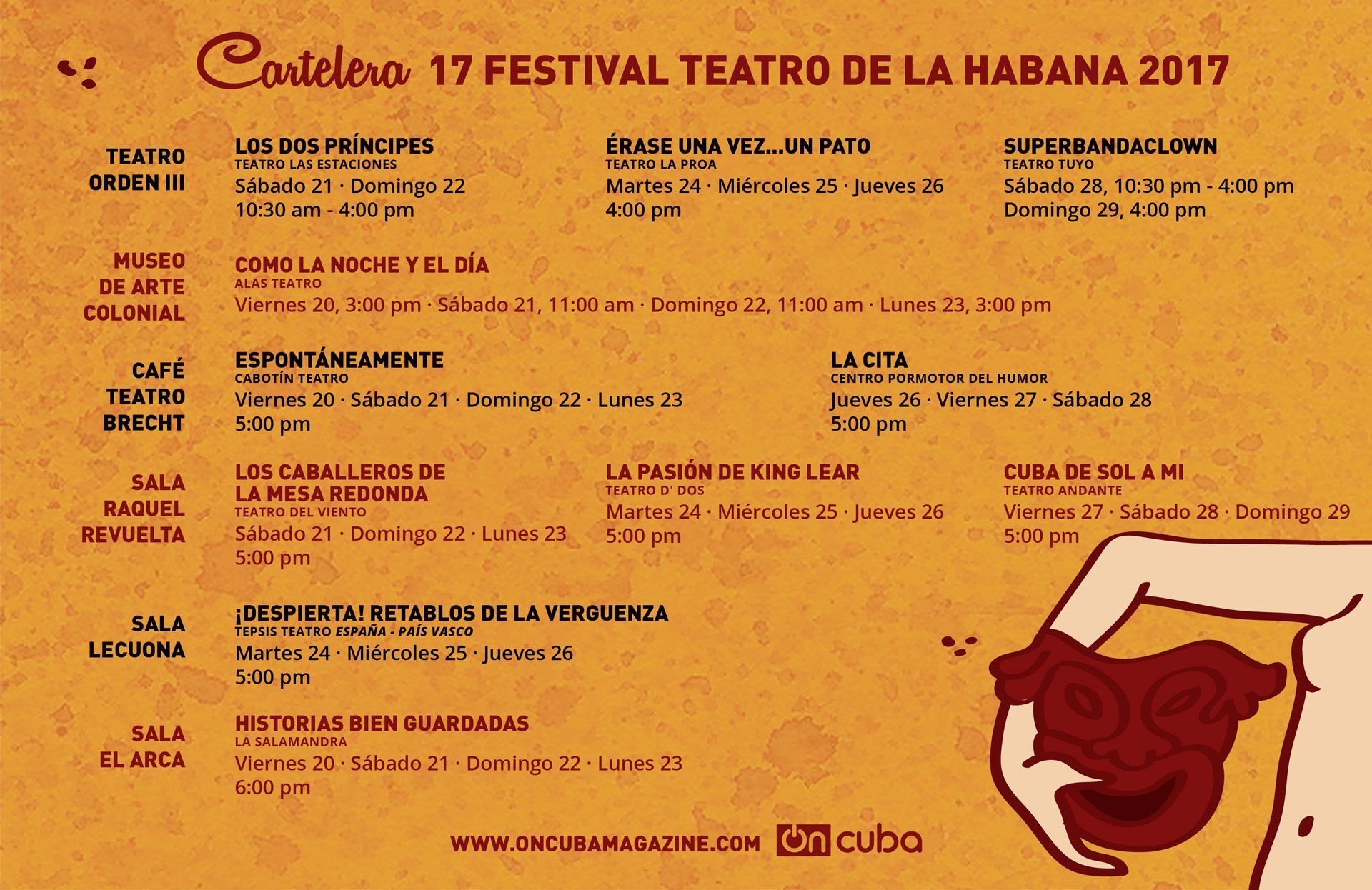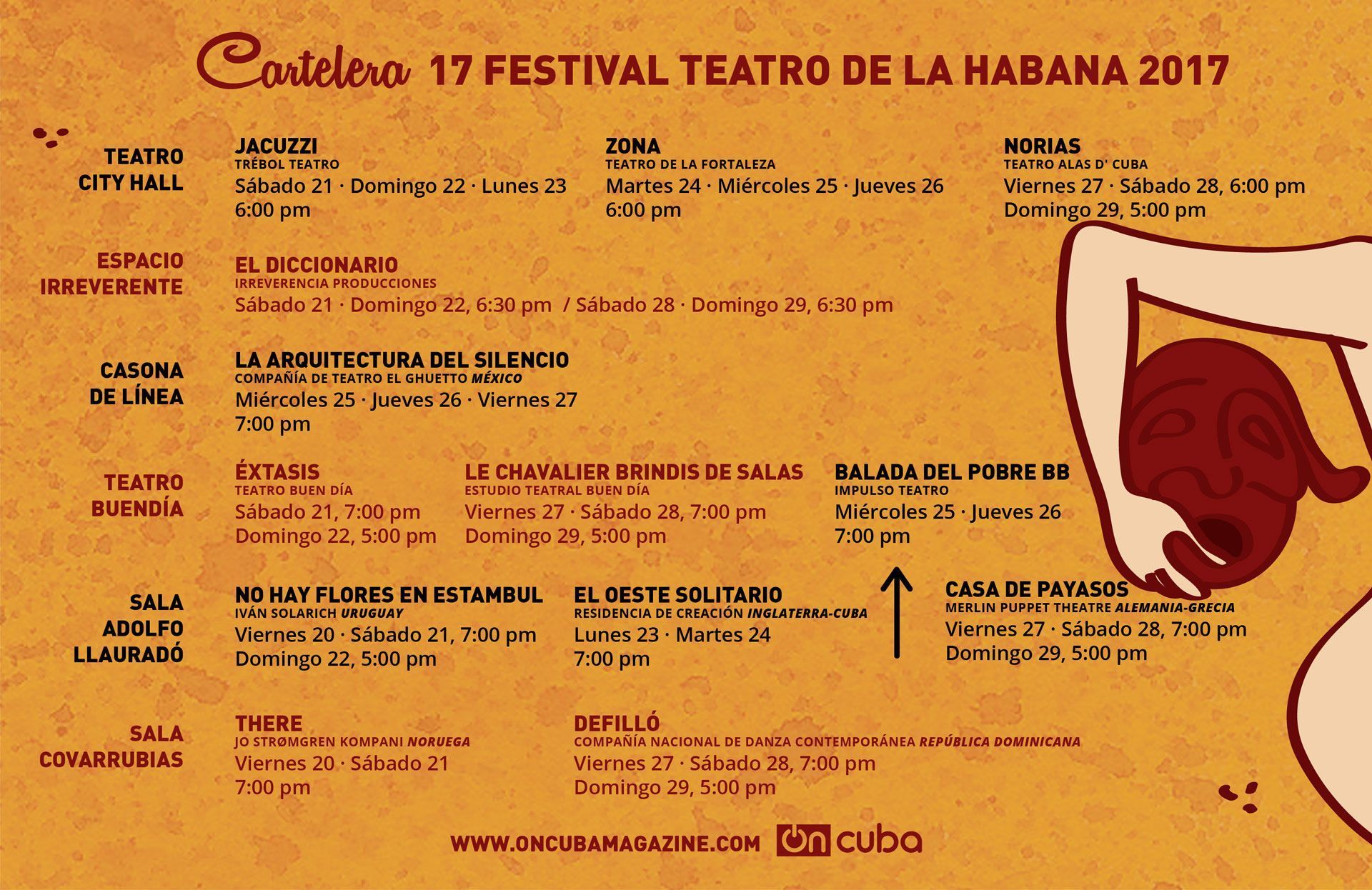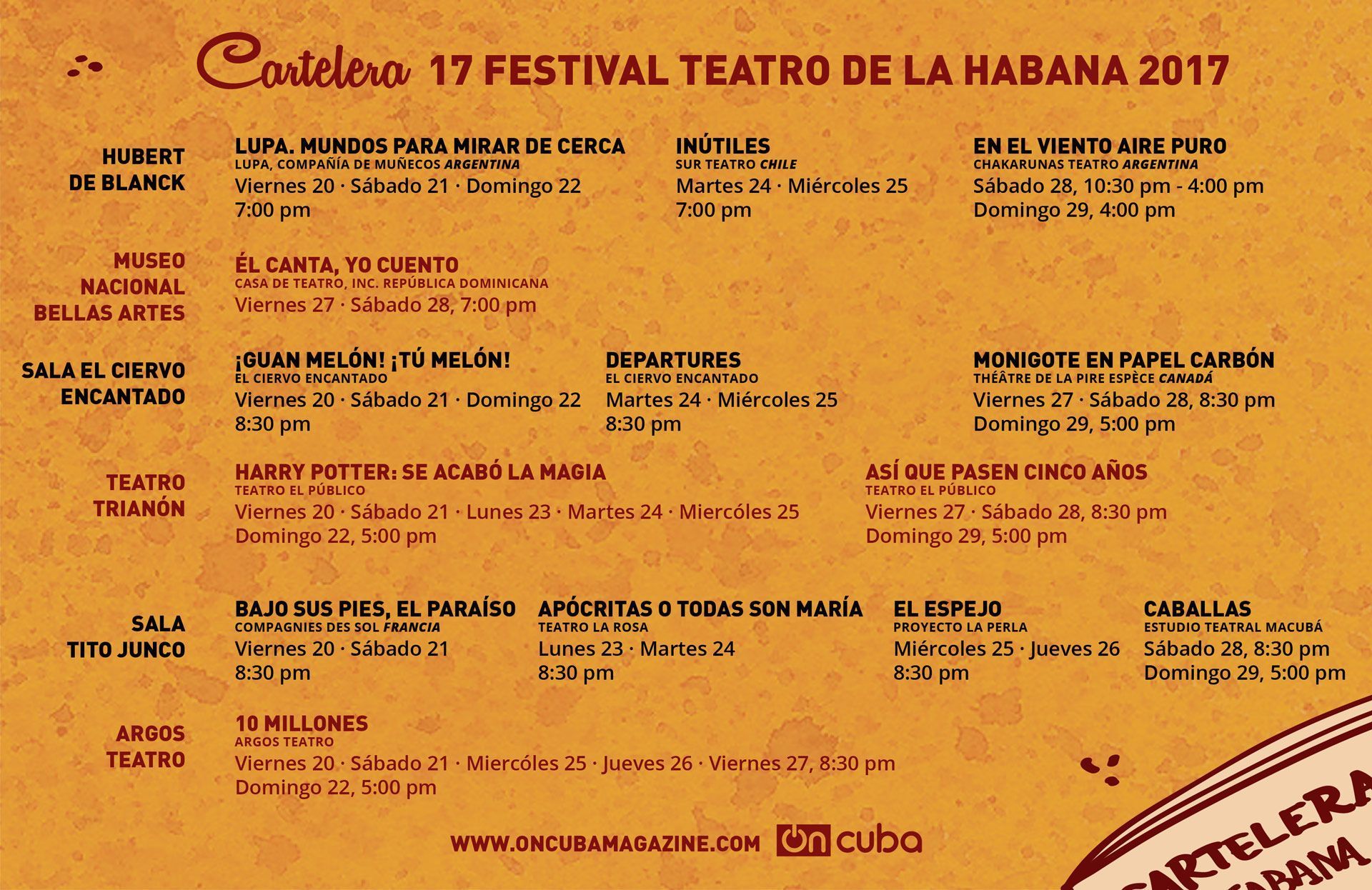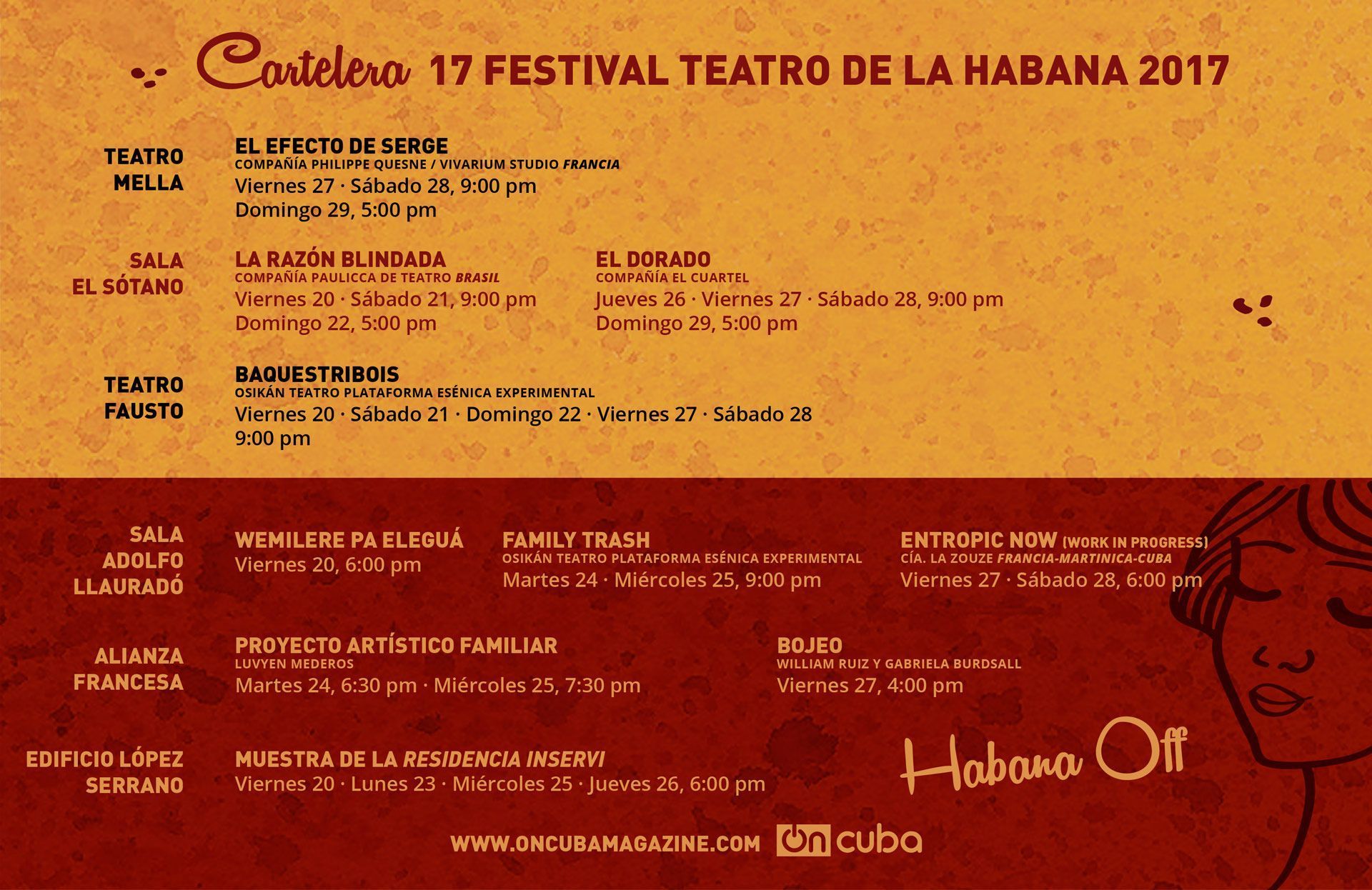 Warning!
El Ciervo Encantado clarifies its presentations timing. They have two plays programed during the Festival: 20th, 21st and 22nd we can enjoy Guan melon..!! Tu melon..!!, and 24th, 25th and 26th , Departures, always at 8:30 p.m. in 18 St. between Linea St. and 11 St., Vedado. Tickets will be on sale from 5 p.m. on presentation days.

El Diccionario on stage
New season of the play El Diccionario during the Festival. Saturdays and Sundays 21st, 22nd, 28th and 29th , always at 6:30 p.m. in Espacio Irreverente (11 St. between 16 St. and 18 St., 1152 apt. 5, Vedado). It's a play by Manuel Calzada (National Award of Spanish Dramaturgia 2014) about María Moliner, author of Diccionario del Uso del Español. The play is directed by Eva González, who performs also with Roque Moreno and Roberto Albellar.



Ballet in the Festival
The Theater Festival takes in its program a one week extension of the current ballet season. Presentations will be this Saturday 21st at 8:30 p.m., and Sunday 22nd at 5p.m., in the Great Theater of Havana "Alicia Alonso". The program includes three of the most popular ballets of the company's repertories: Umbral, A la luz de tus canciones and Carmen.

Special presentations in the Cuban National Theater
Jo Strømgren Kompanien, from Norway, will present the play There in Covarrubias Hall, from Friday 20th to Sunday 22nd at 7 p.m.
The Contemporary National Dance Company of Dominican Republic will be in the Covarrubias Hall on Friday 27th and Saturday 28th at 7 p.m., and Sunday 29th at 5 p.m. The general direction will be in charge of Cuban Marianela Boán and the play will be Defilló.

Expo in El Local
Orchestrated your rhythms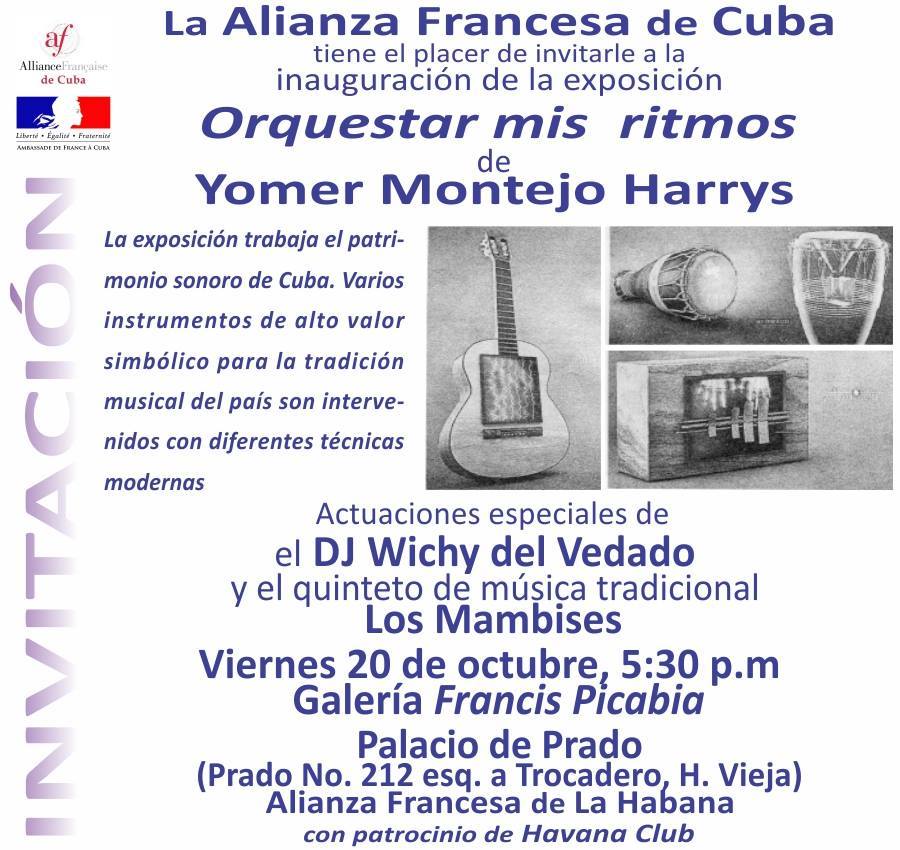 A great photographic spectrum
The Contemporary Art Center Wilfredo Lam exhibits for the first time in more than two decades most of its photographic collection. To do so, proposes the expo Panorama de lo fotográfico, opened past October 17th and will be on until November 17th.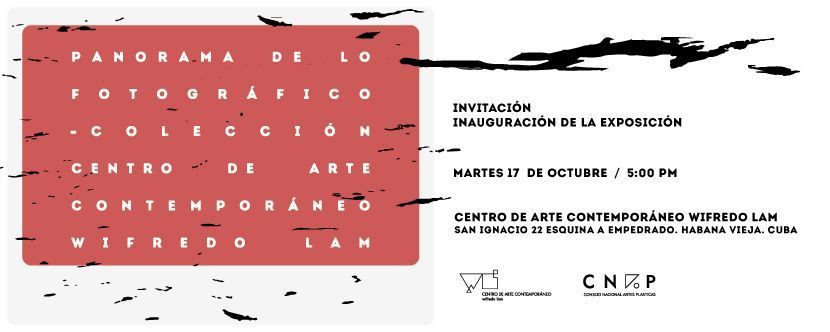 Let's see about that, compay!
Presentation of the book Elpidio Valdés. Los inicios, published by La Memoria Editions, as a tribute to his creator Juan Padrón. It will be introduce by writer and journalist Laidi Fernández de Juan, this Saturday at 11 a.m. in Library Rubén Martínez Villena, Old Havana.

Revista Negra gets to 26
Presentation of Number 26 of Revista Negra, the Creative Photograph School of Havana's magazine. It will take place today at 5 p.m. in Casa de la Amistad (Paseo Ave. between 17 St. and 19 St., Vedado). Introductory words by photographer Héctor Garrido.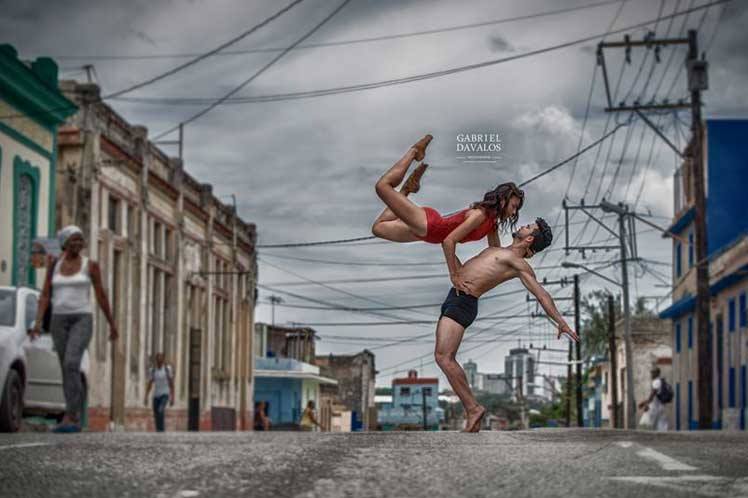 HuelvaCultura in Havana
This project was born due to the synergy of connections within a group of artist who develop cultural activities in Huelva, and another one similar in Havana.
Now, Havana will be the scenarios for the exhibition Oculto splendor (Doñana en Blanco y Negro) by recognized artist Manuel Seisdedos, in Casa Guayasamín (Wednesday 25th at 6 p.m.). Also will take place the concert Los Cantes de Ida y Vuelta, by singer Rocío Márquez and guitar player Miguel Ángel Cortés in Fine Arts National Museum's Theater (Thursday 26th at 7 p.m.).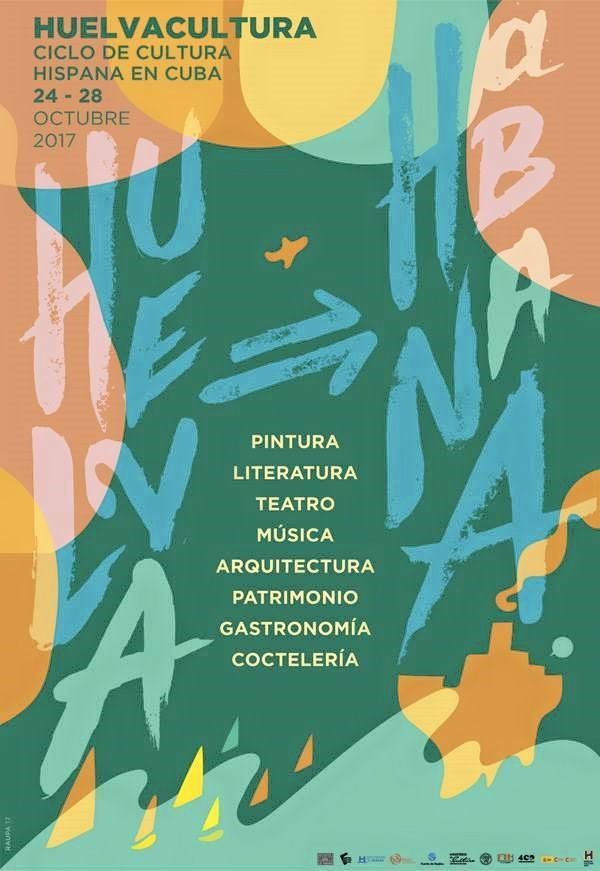 Concert for culture
Singer Idania Valdés invites to her concert today, at 8:30 p.m., in Casa del Alba Cultural in Havana.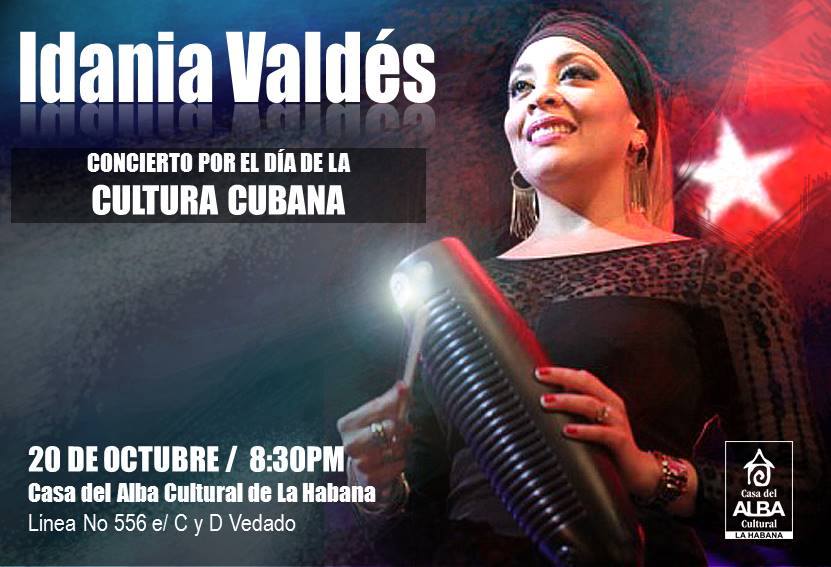 Gerardo Alfonso in Fine Arts Museum
This Cuban singer-songwriter will be today celebrating the Cuban Culture Day at 8 p.m. in Fine Arts National Museum's Theater.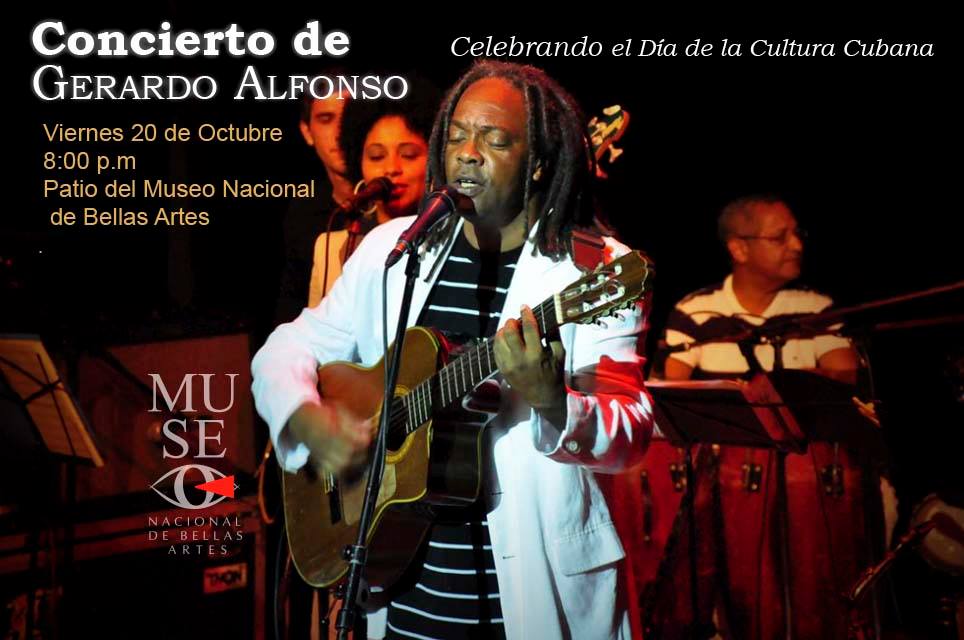 25 years stronger
Enrique Álvarez is celebrating the 25 years of his Charanga Latina group with a super concert. It will take place tomorrow in Karl Marx Theater at 9 p.m. Guests are: Edith Massola, Haila, Robertico, Alain Daniel, and much more.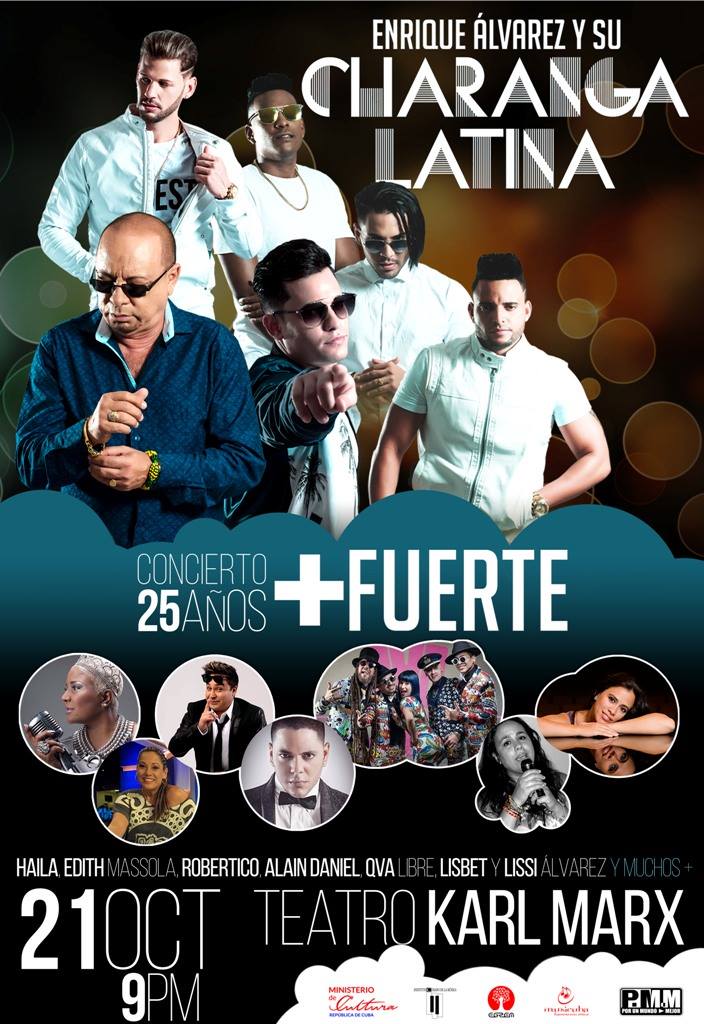 Alfredo Rodríguez Trio tour
This is the schedule if you want to follow them:
October 21 – Princeton, NJ 🇺🇸
October 24 to 28 – Bern 🇨🇭
November 7 – Gliwice 🇵🇱
November 8 – Dresden 🇩🇪
November 9 – Stuttgart 🇩🇪
November 10 – Neuburg 🇩🇪
November 12 – Oslo 🇳🇴
November 14 – Istanbul 🇹🇷
November 16 – Ourense 🇪🇸
November 17 – Madrid 🇪🇸
November 18 – Badajoz 🇪🇸
November 25 – Toronto 🇨🇦
December 9 – Costa Mesa, CA 🇺🇸
December 15 – San Francisco, CA 🇺🇸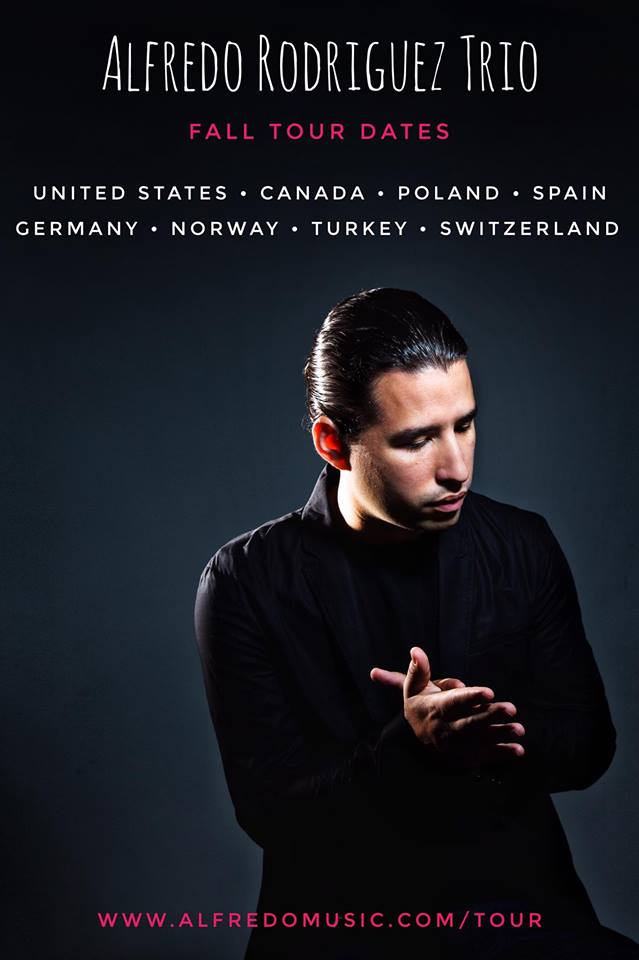 In Tatagua
Héctor Tellez Jr. invites to his concert today, at 10 p.m., in Bar Tatagua (Prado 115 between Genio St. and Refugio St.).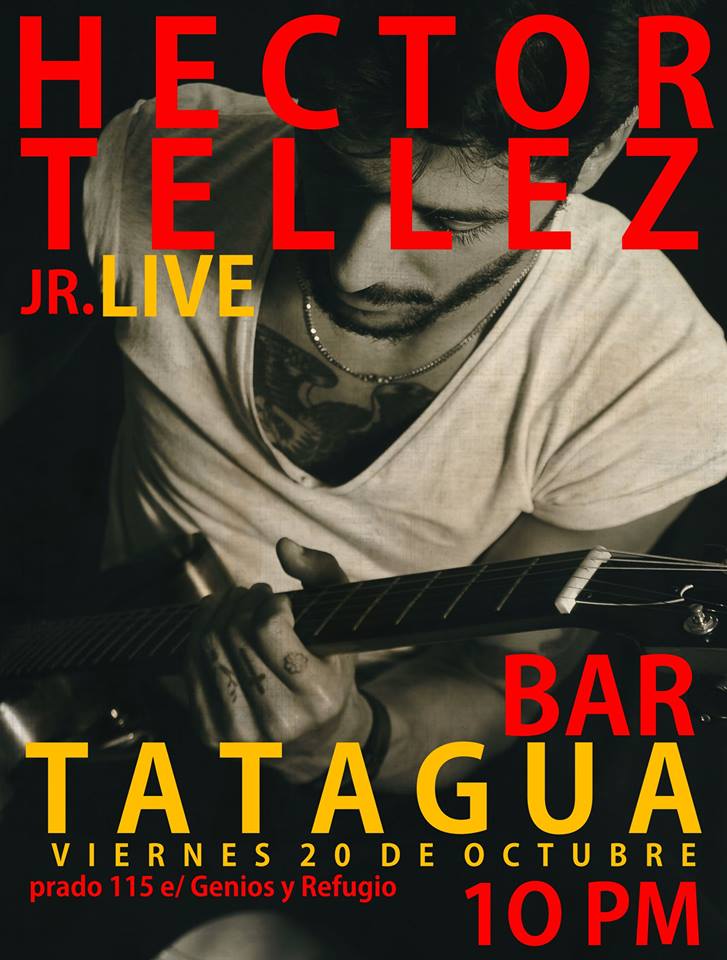 Eliades Ochoa in concert
Today at 10 p.m. in the gardens of 1830.

Trova players Amaury Muro and Ro Trejo are on tour all over Cuba. If you couldn't make it to the concert in Havana yesterday, you can still make it in some other province..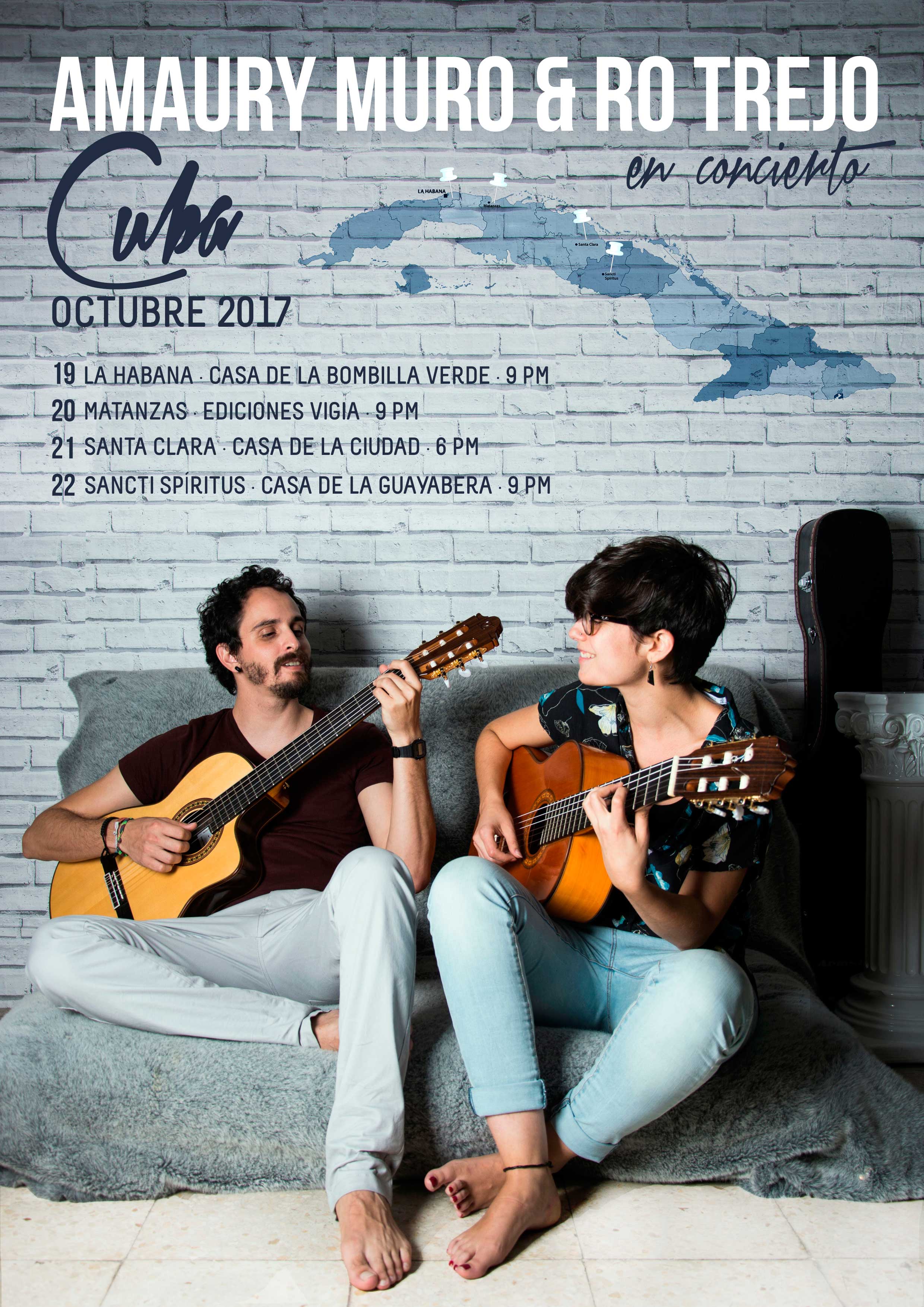 Concert in Corner Café
David Torrens tomorrow at 10 p.m.

Live concert
Sory in Ocho Live Bar and Lounge in Miami, tomorrow at 9 p.m.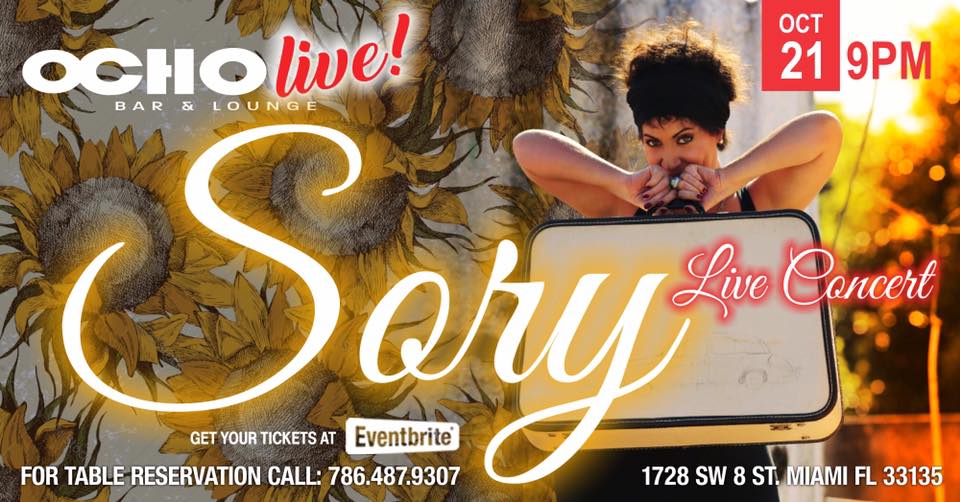 Boris Larramendi invites
""This Friday, October 20th, at 11 p.m. I'll wait for you with my band in It Lounge… Tickets are already for sale, so here you have the link (https://www.eventbrite.com/e/boris-larramendi-live-in-conce…). Don't be lazy and get them now cheaper…COME ON!"


Weekend in FAC
FRIDAY, OCTOBER 20TH
8 p.m.: Open master class by Isabel Bustos, choreographer and director of Danza-Teatro Retazos. Nave 3.
9:30 p.m: Play: Momentos by Danza-Teatro Retazos, Nave 3. This piece puts together fragments of Isabel Bustos's choreographs, traces into the wind that vanishes illusions. Emotions who transit in different times and spaces. Arguments about time. Experiences to drive us closer to what we wish for in dreams and daily. The wait, always the wait, a common place in an endless search…
11 p.m.: Group Ban-Rrará. Nave 4.
12 a.m.: Open Jam with Jazz Connecti. Nave 1.
SATURDAY, OCTOBER 21ST
9:30 p.m.: Tribute Collection Guayza, from Ciego de Ávila. Nave 3. With this collection designers Maribel Torres and Frank Pérez celebrate 15 years of this project with group Síntesis live music.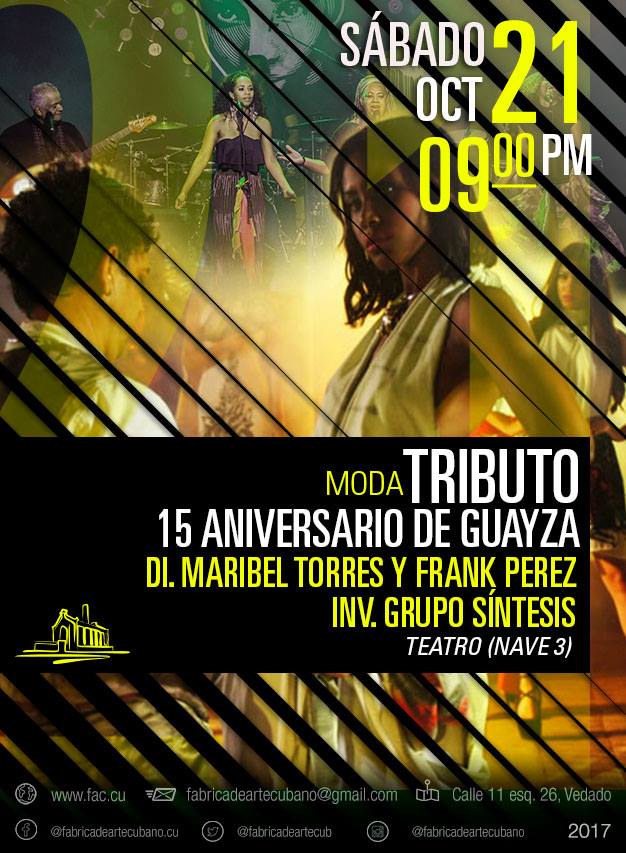 9:30 p.m.: Session DJ Producers with Ivan Lejardi. Nave 1.
11 p.m.: Ernesto Blanco in concert. Nave 4.
12 a.m.: Rock and Roll in FAC with Aire Libre band. Nave 1.
SUNDAY, OCTOBER 22ND
9 p.m.: Play: La Cita, directed by Osvaldo Doimeadiós. Nave 3.
10 p.m.: Vocal Renacer group in concert. Nave 1.
10:30 p.m.: New space for conversations, this time with DNA Music. Hosted by Juanito Camacho and guest Hector Quintana. Nave 4.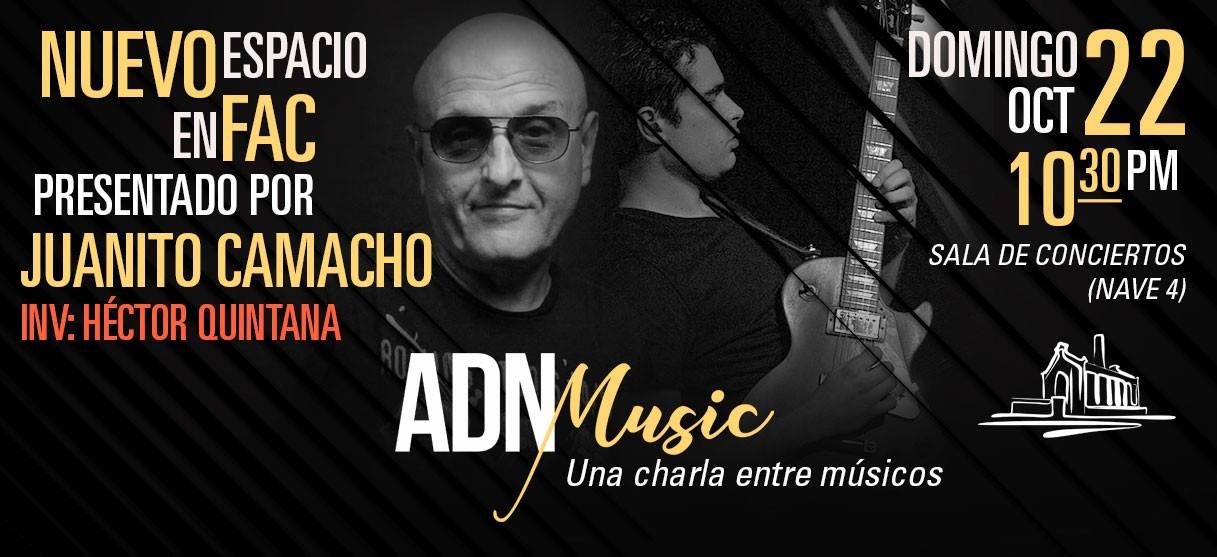 11 p.m.: Concert by young Cuban jazz player Hector Quintana. Nave 4.
11:30 p.m.: Session DJ Producers with Ivan Lejardi. Nave 1.

Authors